So It Looks Like The Stars Wars: Episode 8 Title Has Leaked
Serious spoiler time...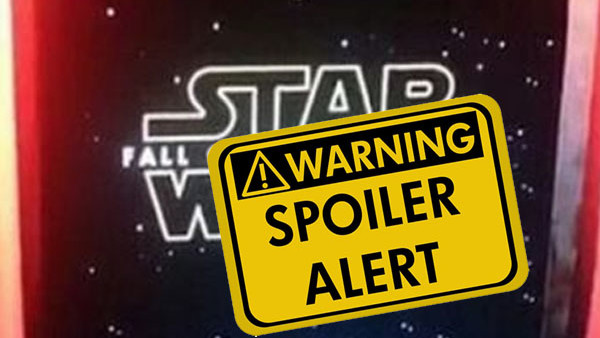 Obviously there's a good chance this has been faked - because, as some of you might be aware, people like to be naughty in such manners - but it would appear that Star Wars: Episode VIII might have a title. And if it's true, it's not looking good for the friends of Luke and Leia.
A video purported to be from a forthcoming Star Wars Celebration has appeared onReddit (that bastion of unerring truth) showing the title for Rian Johnson's forthcoming sequel.
If you don't want to know it yet (yeah right) this is your last warning.
|
|
|
|
|
Seriously, last chance...
|
|
|
|
|
The title according to the leak is Star Wars: Fall Of The Resistance.
The Celebration Europe event is set to be held from July 15th-17th, suggesting that this could be preparatory production materials, but it's unlikely we're going to see anyone from Disney or LucasFilm confirm or deny either way.Just expect security to tighten up a bit.
It's not a terrible title by any means, even if it's pretty damn spoilerish. And crazily, it actually fits with the supposedly leaked plot that ultimately sees Finn duped into helping drop the defences of the Republic's homeworld. Even if that's not the case, we can probably expect a proper downer ending with a title like that.
The Star Wars Celebration Europe event is due to be held from July 15 to the 17 so this could be early preproduction stuff. Unless theres a denial or further confirmation though its unlikely well find out until closer to the event itself.
Episode VIIIwill be directed byRian Johnson and will star Daisy Ridley, John Boyega, Oscar Isaac, Laura Dern, Mark Hamill, Adam Driver, Gwendoline Christie, and Benicio del Toro. It will hit cinemas on December 15th, 2017.
Do you like the title? Share your reactions below in the comments thread.
Create Content and Get Paid
---