So, Will Lando Calrissian Return For Star Wars: Episode VII?
Billy Dee Williams has a "fun cameo".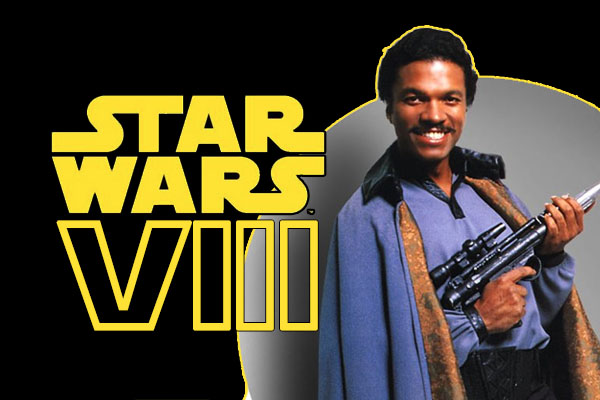 Thanks to a strangely recirculated news piece from March 2015, the question of whether Lando Calrissian will reappear in the Star Wars universe will inevitably return to fans' lips. The rumour in question - first "exclusively revealed" to an "inside source" at The Sun (for that read "probably entirely fabricated by a sub-editor"), has resurfaced thanks to
Heroic Hollywood
(albeit dressed up a little as a rumour from the
Boston Herald
). It's basically grapevine whispers that have as much substantial evidence behind them as if they were plucked out of the cosmos. So maybe don't go believing those rumours, no matter how much they're pushed on Twitter. That of course raises questions about integrity and duty to fanbases, but hopefully fans can see through it. But what is the current state of Billy Dee Williams' relationship with the Star Wars universe? Could there be scope for his character to return despite the apparent snub for The Force Awakens? Might he still be appearing in a cameo role in Episode VII? JJ Abrams likes to mess with his audiences (hence the John Harrison misdirection in Star Trek Into Darkness) so there's no telling until the film comes out. Given his popularity, the renewed excitement at an old, suspiciously uncorroborated story from a tabloid is inevitable, and Lando does seem conspicuous by his absence in light of the returning veterans in The Force Awakens. What is concrete is that Williams would be up for a return (unsurprisingly). He spoke ahead of the Fan Expo Canada in August to confirm as much:
€œI€™d say great, I€™d love to do it."
That follows on from his fan-baiting reluctance to distance himself from the role, or to confirm rumours either way. And of course, there was the weighty admission by script-writer Lawrence Kasdan to
Vanity Fair
in May that:
"Right now, there€™s no Lando Calrissian in . But Lando I don€™t think is finished in any way, shape, or form."
Do you want to see Lando Calrissian back in future Star Wars movies? Share your thoughts below in the comments thread.