Star Wars: Ahmed Best Considered Suicide After Jar Jar Binks Backlash
Almost 20 years on, the actor opens up about his most famous role.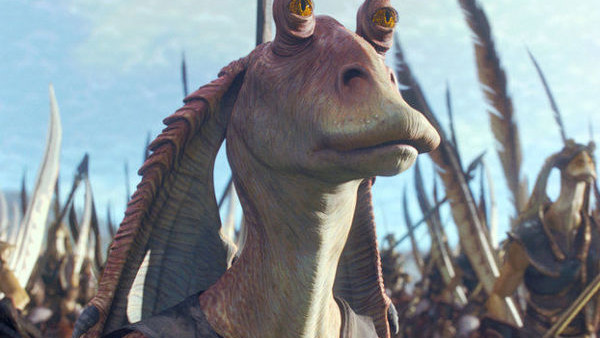 Ahmed Best, who played Jar Jar Binks in Star Wars: The Phantom Menace, has opened up about the backlash he received after his performance.
Jar Jar quickly became Star Wars' most infamous character, with a lot of criticism from critics and fans alike, of which Best bore the brunt. On his Twitter account, Best posted an image of himself and his son at the same spot he reveals he nearly committed suicide, writing:
"20 years next year I faced a media backlash that still affects my career today. This was the place I almost ended my life. It's still hard to talk about. I survived and now this little guy is my gift for survival. Would this be a good story for my solo show? Lemme know."
Speaking to Wired last year, Best said: "I had death threats through the internet. I had people come to me and say, 'You destroyed my childhood.' That's difficult for a 25-year-old to hear."
It's an incredibly moving image, which helps highlight that these people are just doing a job and should never be met with abuse or threats, and was greeted with an outpouring of support from the likes of Rian Johnson and Frank Oz.
In the UK, Samaritans can be contacted on 116 123 or email jo@samaritans.org. In the US, the National Suicide Prevention Lifeline is 1-800-273-8255. In Australia, the crisis support service Lifeline is 13 11 14. Other international suicide helplines can be found at www.befrienders.org.