Star Wars: The Force Awakens - 11 Major Plot Clues From The Final Trailer
RIP old friend.
So, now we're into the home stretch: the galaxy far, far away is getting increasingly closer on the horizon and the final trailer - which might well be the most teased one of all time - has created an explosion of excitement once again. It's not all positive, mind you, but that's for another discussion. What can be said for the trailer is that without giving away a great deal of detail (or even being particularly well edited in narrative terms), it works as a hype builder. It's all VERY nostalgic - particularly thanks to the John Williams score) and there's a definite feel that Abrams is meshing his own artistic vision (minus too much lens flare) with the Star Wars ethos. It might not be enough for some die-hard fans, but it certainly boasted a lot of reasons to be excited. And inevitably, the plot remains only sparsely teased. There's no sign of Luke, or Andy Serkis or Max Von Sydow, and there's no full reveal for Lupita Nyongo, but there is enough in there to draw up some broad conclusions about the plot. Even more than that, there are some pretty specific revelations in there that offer an enticing snapshot of the film's story... Bonus
There's A Mandalorian In Maz Kanata's Posse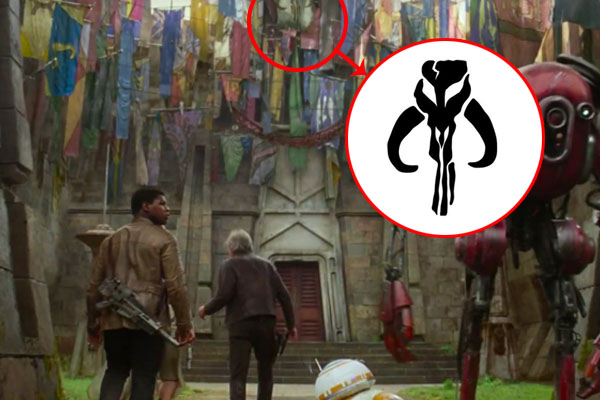 It's not exactly an important narrative element (unless it is), but the wonderful shot of Finn and Rey approaching Maz Kanata's base (complete with droid) reveals the presence of a Mandalorian flag above the doorway. So, hopefully that means the race made it. It could mean that one of Kanata's crew of pirates is a Mandalorian, or it could mean they've used the flag as a trophy in place of a scalp, but in all honesty, it's probably just an Easter Egg.