Sylvester Stallone's Secret MCU Role Has Finally Been Revealed
It's one Guardians Of The Galaxy fans should recognise...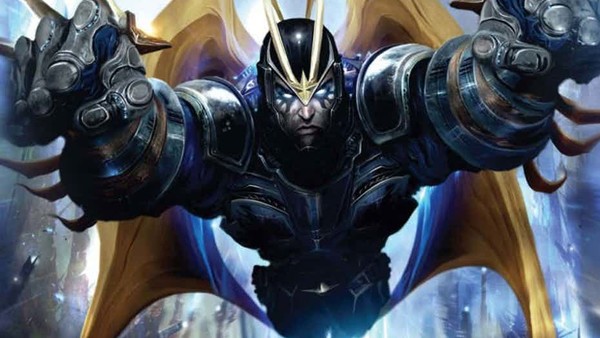 By now, we all know that Guardians Of The Galaxy Vol 2 is going to be great. If you weren't already hyped enough, the first critical reactions from the press screenings that have just happened are lavishing the sequel with praise almost universally (with a few small caveats), and James Gunn has now signed on for a third movie in the series.
And on top of that, the press screenings have also revealed a little secret that had been niggling away at fans for some time: the real identity of Sylvester Stallone's role in the sequel.
According to the production notes handed out at the screening, Stallone is playing Stakar, a high-ranking Ravager who has previous conflict with Yondu and is seeking retribution...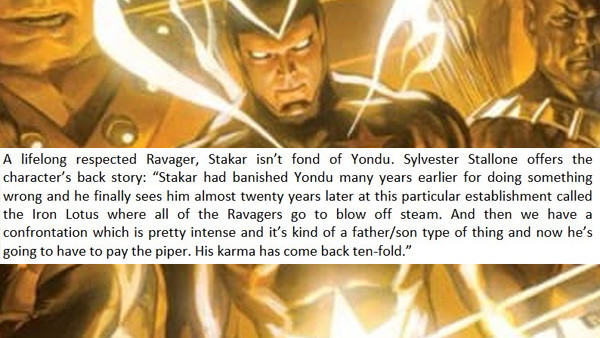 Most interestingly, Stakar is better known in the comics as Guardians character Starhawk, a hero who was part of one iteration of the team, which explains James Gunn's comments about him being key to the wider MCU.
This goes some way to explaining why the sequel was known as Guardians 3000 for a time (it was listed in Production Weekly Issue #942 as such). Starhawk was of course the founder of the Guardians Of The Galaxy in the 31st Century, and appeared alongside Major Victory, Yondu, Martinex and Charlie-27 in that line-up.
Starhawk also appeared as part of the extra features on the Guardians of the Galaxy Blu-ray. He was included as a character in "Galactic Adventurer" – an 8-bit retro game animation...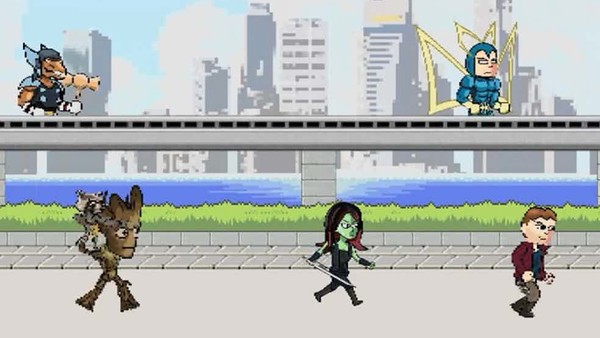 Plus, James Gunn has previously said that he loves Starhawk and promised to reveal one of his personal favourite characters in the sequel.
Interestingly, this might also inspire theories that he's Peter Quill's real father, given a couple of pieces of evidence. First, Peter's origin in the movies is basically the same as Stakar's in the comics - changing his backstory in the comics somewhat. Stakar is a half-human child who was unaware of his real parentage, was kidnapped at a young age and was brought up by Ravagers. The similarities are impossible to ignore.
Maybe that's just Gunn showing his appreciation of the character, or maybe it's something else. Could Starhawk be his real father? Could he himself be Star-Hawk, pre-time travel (that is a major part of the comics, after all)? That's probably speculation too far...
But then, Peter's mother did refer to his real father as an "angel" in the first movie as she was dying, and he fits that sort of description a hell of a lot better than Ego does.
Speaking of which, the same production notes also confirm that Laura Haddock is reprising her role as Meredith Quill in the sequel, suggesting there will be flashbacks.
What do you think of this revelation? Share your reactions below in the comments thread.