The Batman: Should Jon Hamm Really Replace Ben Affleck?
He says he's interested in the role...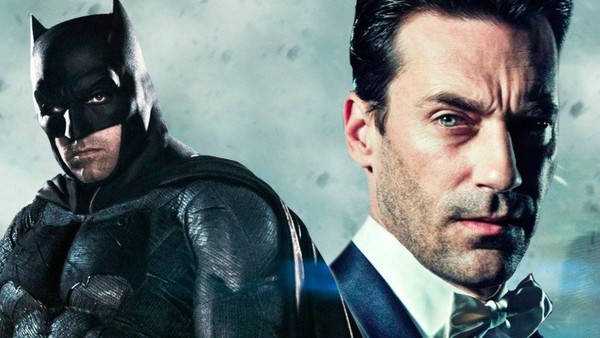 In the wake of the not-yet confirmed news that Ben Affleck isn't Batman for Matt Reeves' The Batman and Henry Cavill's departure from Superman duties, the not-DCEU community is full of fan speculation and rumours as to who will be leading whatever upcoming Justice League projects there are.
For The Batman, it looked for a long time like Jake Gyllenhaal was the man to step into Affleck's Bat-boots, but that has now seemingly gone the way of Zack Snyder and there's renewed speculation about who it might be. Ryan Gosling would be a great shout, but who knows if Warner Bros see it...
But what about Jon Hamm? The Mad Men star has been linked to the role by fans for years, though he hasn't ever been in the running to play it closely enough to audition. And he's now responded to that speculation.
Hamm appeared on "In Depth with Graham Bensinger" and was asked about speculation linking him to the role and his own interest:
"I've had rumors about that since probably - since season one of Mad Men. I've never - I've never had a conversation with anybody about it. Literally. And I've sat in the rooms with all these guys. Never been offered anything. I think the internet wants what it wants. Can't control the internet."
He also said that the script and story would have to be right:
"I'm a huge comic book fan - always have been. I've read comic books since I was, you know, 9 or younger. And I'm pretty knowledgeable about a lot of them. And I - I like the genre, and I like 'em when they're done well... So there's a lot of interesting things out there," he explained. "But it depends on the story, you know? It all comes down to the story."
Could he imagine himself in the role?
"Sure, I mean, sure. I'd probably fit the suit, you know? I have to - I'd have to work out a lot, which I don't love. I am sure there's an interesting version of that being out there. And if they wanted to tap me on the shoulder and ask me to do it, why not? But I mean - you know, a lot of people have to sign off on that obviously - not just the internet."
That's all very pragmatic really and though there's talk that Reeves wants to cast a young actor for Batman, Hamm would still be a great choice. He has the look, the charisma and the acting chops and it's almost a shame he's probably not right for the project.
The reality is that he'd only really work in a Batman movie that either adapted The Dark Knight Returns or something like Batman Beyond where he's setting up a legacy character. Both would be great, but neither look particularly likely at the minute.
Would you take Jon Hamm as Batman? Share your reactions below in the comments.
Watch Next...