The Hateful Eight First Screening Inspires "Strong Response"
And guess who has the largest role?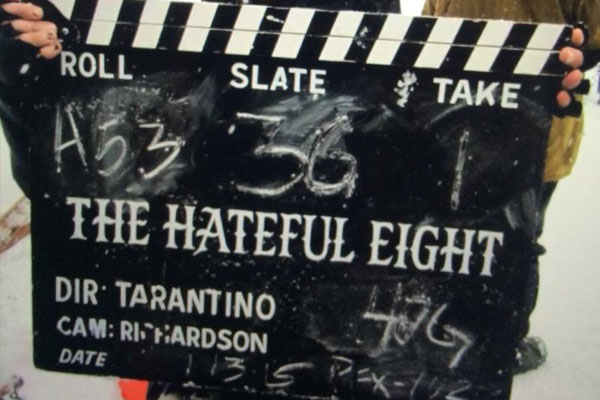 Nothing says Christmas like a bloody, nostalgic Western from one of the most loquacious, controversial directors of the current generation. On 25th December, Quentin Tarantino will finally release the latest addition to his genre-hopping film slate, The Hateful Eight, with the promise of a tense (and probably murderous) celebration of a genre most mainstream audiences would probably consider dead. The good news for fans of old fashioned Westerns - and of Tarantino's previous work on Django Unchained - is that he has apparently made another delight. According to The Film Stage, the reaction to the first test screening - a massive three hours plus change - was impressive: https://twitter.com/TheFilmStage/status/645226333962833920?ref_src=twsrc%5Etfw Now, that doesn't necessarily mean that this version of The Hateful Eight will even be the same as the one that will eventually hit screens. Tarantino, after all, has a reputation for chopping and changing his cuts right up until the first public screenings (and even beyond), and you have to suspect someone at The Weinstein Company is going to suggest that more than 3 hours is a big excessive. No prizes for guessing exactly who that might be... Given Tarantino's quite open love for Sam Jackson, it's not surprising to hear he has an expanded role (despite Kurt Russell seemingly marketed as the top billed name), nor that Jennifer Jason Leigh shares the most amount of screen time with him. They're certainly the most interesting elements of the cast, and it feels like the rest of the deliciously on-point cast will work better in smaller doses (since this is effectively a Cluedo movie). It's not currently clear what remains of the original script that so infamous leaked online - eliciting a grumpy response from the director that almost spelled the end of the film completely - but even if it is identical, it remains one of the most exciting films still to be released in 2015. Spoilers be damned. Are you excited for The Hateful Eight? Share your excitement below and
read all of our Hateful Eight coverage here.
Create Content and Get Paid
---