Thor: The Dark World Gets A New Poster!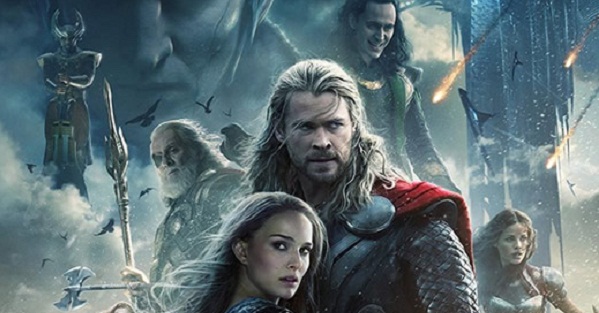 Lo and behold, the new poster for Thor: The Dark World has landed upon this terrestial plane and Entertainment Weekly has debuted it. Marvel continues its tradition of Photoshop projectile vomit as pop art with this latest masterpiece, featuring quite possibly every single player sure to show up in Thor€™s next adventure. If you look very carefully, there€™s a Munchkin hanging from a tree back there somewhere. Joking aside, apart from the extremely crammed €˜epic€™ nature of the image, the poster at least teases at the vaster scope of this sequel, which will give Thor two women who can quarrel over him and two troublemakers who will likely scheme against him. At the center, looking appropriately stoic is Chris Hemsworth in all his swaggering glory.
The gals are Natalie Portman€™s returning astrophysicist and Jamie Alexander€™s Sif, a warrior-princess who€™s got a little thing for the Thunder God. Christopher Eccleston is hidden under a crap-ton of makeup as Malekith the Accursed and Hiddleston looks like he€™s either coming back from a K.D. Lang concert or on his way to a Rennaisance Festival. The Warrior€™s Three, Idris Elba€™s Heimdall and Anthony Hopkins' Odin all get their spot, and you can see Asgard and the Fist of Malekith, that thing in the upper right that looks like Satan€™s staple remover. While this is just too much for a really lovely composition, I suspect the intent of the image is simply to get talk started on the film, although most of these elements were at least hinted at in the trailer. To date, Kenneth Branagh€™s original Thor is my favorite of the Marvel single character films (excluding the first two Blade movies) and I€™m excited to see what Game of Thrones€™ Alan Taylor will bring to the table on the sequel. Thor: The Dark World is headed to theaters this November 8th, 2013. That's plenty of time for one of the Mondo artists to get us a properly amazing piece of wall art. Get on it, people! Are you excited for the Thor sequel? I'm personally most curious about how Nine fares as the villain. Here's hoping the Doctor pulls off some serious menace in the role.
Create Content and Get Paid
---