Toy Story 4 LEGO Sets Review
The toys are back in town!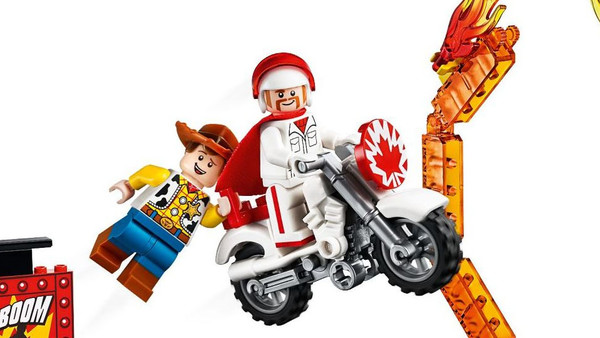 Unless you've been living under a rock for the past couple of years, you'll know that this summer sees the hotly anticipated return of Buzz Lightyear and Woody the Cowboy with the release of Toy Story 4 to the big screen. And with it comes the opportunity to fall in love with a whole new raft of characters as well as basking in the adoration of the old favourites.
The film sees the arrival of Bonnie's new toy Forky - a living spork understandably in the grips of an existential crisis (typically grown-up stuff from Pixar once more) - and the return of OG character Bo Peep as Woody embarks on an adventure to get Forky back home.
In line with the release, Pixar's official toy partners LEGO have a host of new sets available, which include the debut of new characters like Bunny and Bucky, Duke Caboom and Forky himself. And they've released a special group of 4+ sets aimed at young LEGO players who are too old for DUPLO and who are looking for sets to help build their confidence in building.
Fundamentally that's a great idea and we were lucky enough to receive a couple of the sets for review ahead of Toy Story 4's release:
Duke Caboom's Stunt Show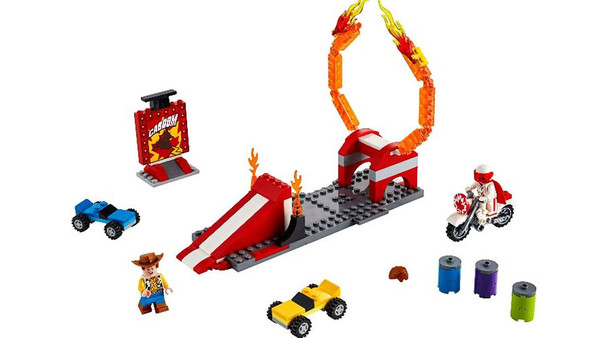 Info: [Set number - 10767]
This fun preschool set features an adjustable ring of fire with attached ramp and two special Starter Brick plates, a buildable toy motorcycle, 3 stackable cans, 2 cars and a stunt sign that can be knocked down.
Price: £15.99
It's a smaller set and though it's a licensed line, it's great to see that it falls within pocket money range. Okay, so maybe on the higher pocket money range side, but you can't undervalue how much kids like playing with the toys they see in movies.
The Build & Play Factor
Inevitably, it's a simple one, but it's silly to judge this build in adult terms, because it's not how it's designed to be enjoyed or who it's designed for. The build is definitely well-suited to formative builders and the pieces are typically very good. The details in particular are wonderful.
It's not just limited to younger fans either, because the license and the details mean older collectors are going to get a kick out of it too. And while the build is easier, that doesn't really come out in the finished design, so they'll sit alongside other Toy Story sets in your collection nicely, even with the different minifig designs.
In terms of play - because that matters just as much to the 4+ audience - it's a great one, with three vehicles and the stunt ramp. It's definitely geared towards imaginative story play and will hit the HUGE kids matchbox car market.
Minfigure: Woody and Duke Caboom
The first set comes with a tiny Woody, complete with cowboy hat and a Duke Caboom, who will undoubtedly appeal to completists who won't have him in their collection yet. The character is great already, but the shrink down has made him even better. They're both incredibly sweet and the decision not to go with the more realistic look of the toys that the last Toy Story sets released back in 2010 went for is a good one. It's just nice that they're more like true mini-figures.
Toy Story 4 RV Vacation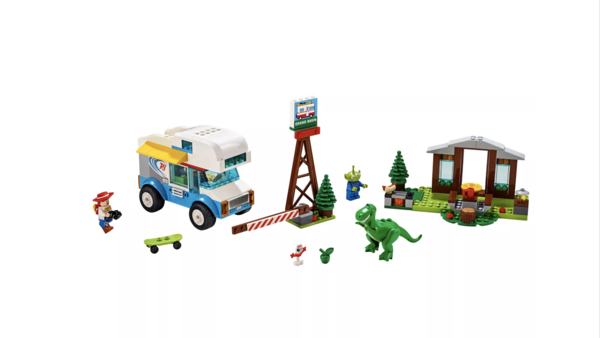 Info: [Set number - 10769]
This entertaining and easy set for preschoolers features an RV with special Starter Brick chassis, removable roof and interior with bed, toilet and sink, plus a park building wall with special Starter Brick baseplate, tree, picnic table and a grill. This set also includes an RV Park sign with tree and opening gate.
Price: £29.99
Again, it's definitely easily affordable, even at a slightly bigger price. It's smart of LEGO not to price their chief buyers out of their own market, basically. Is it worth the RRP? Easily, both in build and play.
The Build & Play Factor
As another 4+ set, the build is aimed at younger, less experienced builders, with larger, less complex pieces (there's still 179 of them, though). How it's skewed does somewhat make the very small pieces - like the adorable little hot dog and apple - something of a surprise, but it's clearly supervised building they're looking at.
The details on pieces are great without being fiddly to fit and you get a real sense of the personality of Pixar, which really matters with licensed sets. And as the RV is a moveable piece, you've got good play factor too. One thing - Forky is going to be very easy to lose, but that actually fits with the story of the film!
Minifigures included: Jessie and Alien (plus Rex and Forky LEGO figures)
The Jessie minifig here is pretty standard (though still great), but the other three are even better. Rex is captured perfectly in smaller form with no change to his design, the alien has its usual head design and full minifig body and Forky is about the most adorable thing in the entire world.
Are you excited for these sets and Toy Story 4? Share your appreciation in the comments thread.