True Story Of Tarantino's Failed Bond Movie
Casino Royale, shaken AND stirred.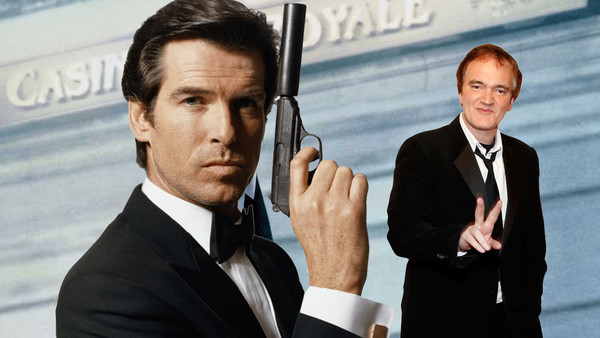 Thanks to lockdown and Pierce Brosnan's Goldeneye watch-along with fans, the question of Quentin Tarantino's lost Bond movie - another for the pile of things he "wanted to make" - has come up again. This time, Brosnan has revealed that he actually met with the director after Kill Bill Vol 2 came out at the Four Seasons at Tarantino's behest.
The pair got drunk - or "smokered" as Brosnan OBVIOUSLY calls it - and Tarantino revealed that he only had eyes for Brosnan as his 007.
"He was pounding the table, saying you're the best James Bond, I wanna do James Bond, and it was very close quarters in the restaurant and I thought, please calm down, but we don't tell Quentin Tarantino to calm down.""He wanted to do James Bond, and I went back to the shop and told them but it wasn't mean to be. No Quentin Tarantino for James Bond... That would be a good one to watch."
The truth of Tarantino's affection for Bond is that it went back way further than that point.
By 2004, Bond was adrift. We were two years out from the release of Die Another Day and Brosnan had only just relinquished his starring role with Daniel Craig's tenure about to begin with the excellent transformative Casino Royale. Martin Campbell was the man in the director's chair, but Tarantino also pitched to make Casino Royale. But when he did it, he had an even greater transformation in mind for Her Majesty's Greatest Asset.
Tarantino is a self-confessed spy story fan. In fact, around 2009, he talked quite openly about wanting to make something out of Len Deighton's Bernard Samson trilogy - 'Berlin Game,' 'Mexico Set' and 'London Match' - and was very keen on the idea of a project that would allow him to live and work in England for 6 to 9 months. Deighton's Ipcress novels - and indeed the film adaptations starring Michael Caine - were also some of his favourites. It's natural that he wanted to tackle Bond.
His model for Bond was to return to the only Ian Fleming novel that hadn't been properly adapted - Casino Royale (and no, the comedy version doesn't count) - and make a "small-scale, plot-driven" adaptation of it. In the wake of Eon regaining the rights to Casino Royale in 1999, Tarantino was one of the bidders for the rights and he revealed later - around the time Brosnan was leaving the role, in fact - that he pitched to the Bond mega-producers to go with a character driven plot that ditched the need for huge, expensive set pieces and stunts
Details have emerged over the years of what it would have looked like, with settings - according to Tarantino himself - tied to the 1940s, the 1950s OR the 1960s (it depends on who you ask or who he said it to at the time, apparently). But if Eon insisted, he would have made it set in the present day to fit the ongoing timeline. Which would make sense given that he wanted Pierce Brosnan to return.
He apparently also wanted to shoot it in black and white (which would have been cool) as a means to set it completely apart from the other Bond films and wanted to bring in Uma Thurman (of course) to play Vesper Lynd and Samuel L Jackson (double of course) to play Felix Leiter.
The story would have been set immediately after the events of On Her Majesty's Secret Service, hence the 1960s setting (which seems to be the most likely one), as confirmed to New York Daily News:
"(I would) have it take place after the events of "On Her Majesty`s Secret Service" – after Bond`s wife, Tracy, has been killed. I want Bond to be in mourning when he falls in love with Vesper Lynd, the woman in the novel."
Ultimately, the film-makers had distinctly different ideas and Tarantino's were rejected, even with Pierce Brosnan leading the call. The director himself announced the death of the project claiming the producers were "'afraid I going to make it too good and f**k the rest of the series." Wonderfully on-brand there.
He also seems to believe that the producers stole his idea of retelling Casino Royale:
"I resent that none of them gave me a shout out that I'm the one got them making Casino Royale."
That may not be the case, given that Barbara Broccoli had gifted Pierce Brosnan a copy of Casino Royale when HE took on the role of Bond (ten years before it was actually made), suggesting they had SOME plans to make it even back then in some form.
Ultimately, it's a shame that Tarantino wasn't given the chance to make his Bond, but it's probably even more of a shame that he then gave up on his plan to make the Len Deighton books into a series of films. Because the ideas he had there sound just as good and wouldn't have come with the burden of Bond's history...
"One of the things I enjoy musing about doing is the trilogy of Len Deighton books, 'Berlin Game', 'Mexico Set', and 'London Match'. The story takes place in the Cold War and follows a spy named Bernard Sampson. What is attractive is the really great characters and the wonderful casting. I am a huge fan of Simon Pegg. I also think Kate Winslet is the best actresses that ever lived, so I would be honoured to work with her. I am also a huge admirer of Anthony Hopkins. I would also love to work with Michael Caine. I can see them appearing in my movies."
Another one for the pile marked Missed Opportunities, it seems.