Venom 2 Already Changed How Carnage Will Look
The red curls have gone and something has taken its place...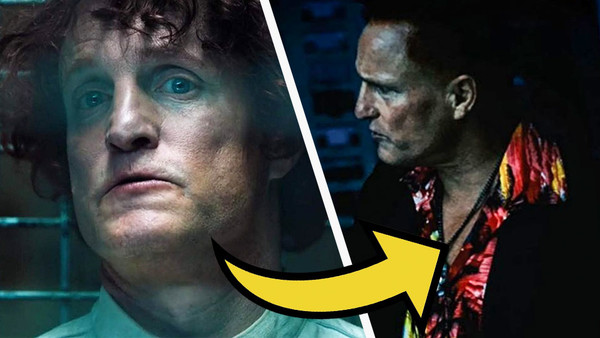 Tom Hardy caused some carnage today by sharing an image of Woody Harrelson as a different version of Cletus Kasady from what we've already seen.
The image uploaded by Hardy to Instagram from the Venom 2 set has since been deleted, but can be found relatively easily. It appears to show a different slicked back hairstyle - so long red wig, we hardly knew you - coupled with a curiously gaudy Hawaiian shirt. The image was titled "Hello Cletus," followed by a fire emoji, however, given Harrelson's fondness for wearing whatever he likes - such as pyjamas to a screening of the hunger games - the image may well be the actor having a laugh.
Venom 2 is currently filming and is being directed by Andy Serkis. It will act as a continuation from Venom which was critically panned on release but proved to be commercially popular, making more than $822 million from global ticket sales.
Hardy returns as investigative journalist Eddie Brock, who is bonded to the titular Venom, a symbiotic alien brought to life through extensive CGI. Harrelson will play Cletus Kasady, an all-round bad dude who bonds with another symbiote to become Carnage, and Naomi Harris is reportedly set to play the Shriek, a villain and canonical lover of Cletus.
The film is expected to connect in some way to the upcoming Morbius film starring Jared Leto, although exactly how linked remains to be seen. It's also speculated that Tom Holland will make an appearance as Spider-Man, theoretically linking Morbius and Venom to the character, allowing Sony to build their own Spider-Verse. Again.
Official updates from filming have been limited. Serkis, at the beginning of the month, gave an update to DigitalSpy. "Well, you know, I really can't talk too much about it – I know, boring – but we're 40 days into the shoot and it's really thrilling," he said. "We've got the magnificent Tom Hardy, who's obviously at the centre of it, and we sort of see a deepening of the relationship between him and obviously there's a nemesis character and... that's all I can say."
Venom 2 is due to be released in October 2020.
Create Content and Get Paid
---