Were Fox Secretly Making The Simpsons Movie SEQUEL?
Will the Disney deal kill that too?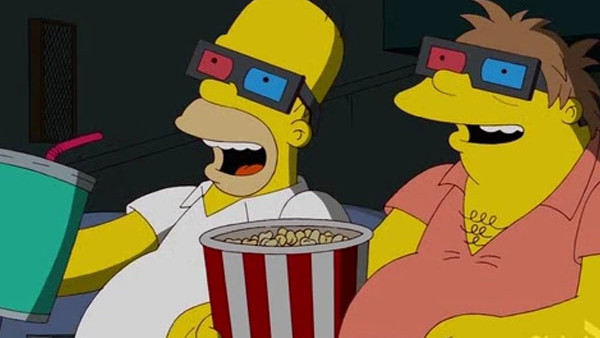 If you're currently working for Fox's movie and TV departments, you're probably facing something of an uncertain immediate future given the Disney deal and the distinct possibility of major changes.
Already, we've been told that Fox have no plans to give up The Simpsons just yet (thanks to the years of episodes they already have in the works) and it does seem that the studio was still pushing ahead with plans for future projects even as the Disney talk was ongoing.
Those plans also include something exciting for fans of The Simpsons, too. Because after years of speculation and fan desire, it seems that Fox were planning to make a Simpsons Movie sequel despite it looking pretty unlikely for a long while.
In the past few days, The Wall Street Journal ran a story on the "awkward" situation Fox's 2300 employees are facing and in there was a revelation from the animation team:
Amid the uncertainty, Ms. Snider has emphasized a revamp of Fox's approach to animation, bringing in a new partner to replace an expired deal with DreamWorks Animation after it was acquired by Comcast Corp. The film studio is partnering with the Fox television studio on a big-screen adaptation of the animated series "Bob's Burgers," a second "Simpsons" movie in development and a "Family Guy" film that would mix animation with live action, said people with knowledge of the projects.
That's obviously very exciting for Simpsons fans - and likewise for Family Guy, which always looked ripe for a movie adaptation to follow the excellent Star Wars parodies (Bob's Burgers was already previously announced) - but it may now come with a caveat.
Who is to say that Disney will now sign off on the movie?
They obviously have their own animation team and Family Guy and The Simpsons don't exactly scream Disney sensibilities (the former having lampooned Disney's approach to animation in the past). But if the studio are committed to keeping The Simpsons on TV as a money spinner (they'd have to relaunch the property as a merch seller like the olden days for that to really work) then there COULD still be room for a sequel after all.
Let's hope so, anyway.
Watch Next...
We need more writers about The Simpsons Movie! Get started below...
Create Content and Get Paid
---