Who Framed Roger Rabbit: 13 Easter Eggs & References You Probably Missed
Prepare to see the insanity of Toontown in a whole new light...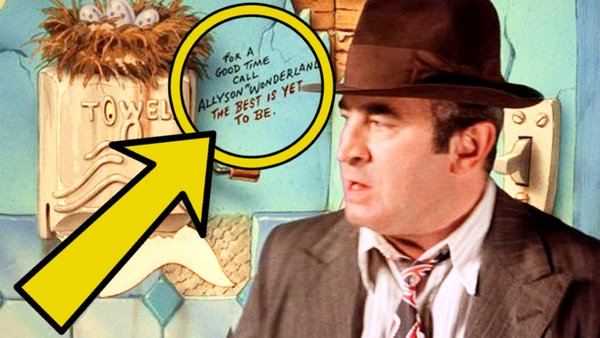 1988's Who Framed Roger Rabbit is so overflowing with gags, cameos and references that a complete list would be astoundingly long. Many of them are so in your face that they're well-known and oft-discussed, but there's a whole category of gags, Easter eggs, references to culture and popular culture of the era, and numerous nods to classic cinema that even cinephiles miss.
What's the common connection between "pattycake", Roger's reaction to it, and Jessica's car? What's the origin of the portable hole that saves Eddie Valiant's skin? Who the heck is Br'er Baer? What's the unexpected connection between Roger Rabbit and Bugs Bunny, other than they are both from the family Leporidae? What's the song "Smile Darn Ya Smile" have to do with anything? And how is Roger's momentary imitation of a famous cartoon detective a nod to the origin to the history of Roger Rabbit's origin?
As the rabbit himself might say, "P-p-p-please read on!" to get the whole story.
13. Lena Hyena's Blech Boudoir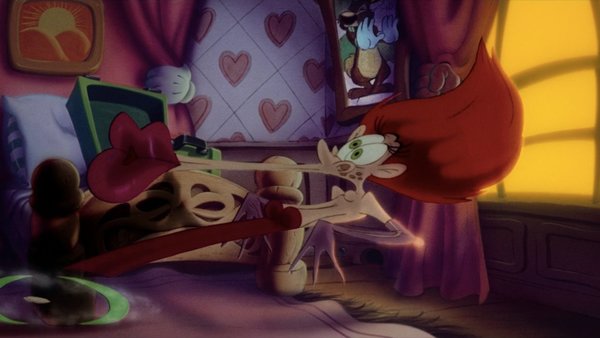 When Eddie Valiant enters what he thinks is Jessica Rabbit's Toontown apartment, his and our focus is squarely on what turns out to be Lena Hyena, but what's easy to miss is how creepy her apartment is.
Toontown is overflowing with buildings and objects with faces and the occasional white gloved Toon hand, but Lena's apartment takes this to an extreme. Most of her furniture features faces with expressions ranging from despair to disgust, and the ties on all the curtains are huge white Toon gloves, which imply she won't let go.
Also, and it's really hard to spot given its only on screen for a few frames at a time and the darkness of the room, but there's a framed picture of a Screwy Squirrel-like rabbit on the wall to the left of Lena's window who looks happy when Eddie peeks through the keyhole, then repulsed after Lena's identity reveal, holding his hands out as if to ward her off.
Apparently Jessica is not the only redhead in Toontown with a thing for rabbits.