Why Jeremy Renner Wasn't In Mission: Impossible - Fallout
First Avengers: Infinity War, now this. Jeremy Renner can't catch a break.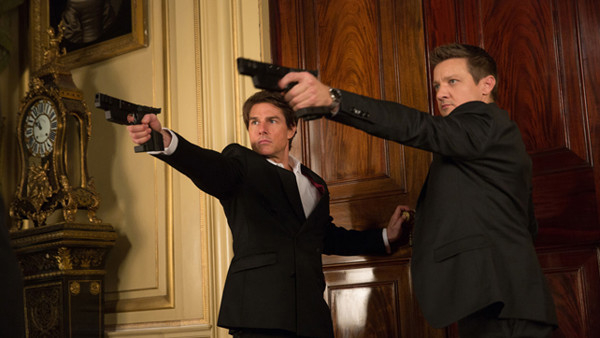 Despite being part of two big blockbuster franchises, both of which had new movies releasing in 2018, Jeremy Renner had the misfortune of showing up in neither. His absence was explained away in Avengers: Infinity War, but that didn't stop fans from spawning the #WheresHawkeye social media movement, asking why the actor hadn't shown up in the sprawling superhero epic.
However, his disappearance from the Mission: Impossible franchise and the recently released sequel, Fallout, didn't quite receive the same response. Featuring in both Ghost Protocol and Rogue Nation, Renner's character isn't mentioned at all in the latest release, but director Christopher McQuarrie has now explained why the actor was left out in an interview with Empire.
Putting the blame partly on his commitment to the production of both Avengers 3 and 4, McQuarrie explained that:
"Jeremy had his commitment to Avengers, which ironically they ended up not exercising, and we didn't know what the [sixth Mission] movie was, so we couldn't provide a schedule. We needed absolute freedom. The unfortunate thing for Jeremy is that he got caught in this perfect storm of, one can't use you and one doesn't know how to, given the massive complications they had with Avengers."
However, that didn't stop the writers from coming up with a way to bring the character back for a cameo, one which would have involved killing him off in the opening scene. Unsurprisingly, Renner didn't want to show up just to be murdered straight away:
"I said to Renner, 'Hey listen, I have this idea for an opening sequence where you sacrifice yourself to save the team, and that the mission-gone-wrong not only involves losing the plutonium, but involves the death of a team member.' And Jeremy was like, 'Thanks, but no thanks' […] He was smart not to take the short paycheck for three days of work and getting blown up."
Had the actor accepted the role, the opening of Fallout could have been very different from the one fans got, but at least now it leaves the door open for Renner to come back (hopefully not just to be killed off) at some point in the future.