Why Losing Spielberg Is DISASTROUS For Indiana Jones 5
Just when we thought the franchise was on the up, the director and co-creator pulls out...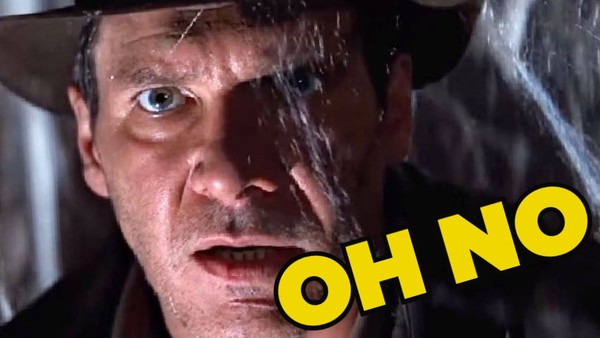 When it was originally announced Steven Spielberg was to return to the world of Indiana Jones for the fifth installment in the franchise, it put a lot of fans minds at ease.
It's fair to say the last film released, Kingdom Of The Crystal Skull in 2008, wasn't quite the hit fans were hoping for, despite the film being a box office success. There were many who felt some of the film's creative decisions didn't quite fit the themes of the original trilogy (hiding in a fridge, the inclusion of aliens, Shia LaBeouf's character twist etc). However, with both Spielberg and Harrison Ford still attached to Indy 5, it looked as though they were planning to right the possible wrongs of the last installment and send the title character out with a bang.
But with the director's departure from helming the project this week, that all looks set to change. It's certainly created a couple of problems for the fan base.
This is the first film in the franchise Spielberg hasn't directed, so it marks a major change from the norm, and despite reports James Mangold is set to take over (the Ford v Ferrari director is great in his own right), it just might be that step too far for it not to feel like an Indiana Jones film.
Spielberg is one of, if not the key ingredient in the formula which makes up the franchise, and his departure may affect box office takings. A film without him behind the camera has never been done before, and other efforts to expand the franchise (The Young Indiana Jones Chronicles, for example) have been met with more mixed results, failing to live up to the cinematic offerings to the series.
Then there's also the question as to why this has happened. Official reports are claiming Spielberg wants to hand the mantle to the next generation, and will remain as a 'hands-on' producer. However, this is the latest staffing change of many, while Indy 5 has been stuck in pre-production for a number of years now with a number of script rewrites. Could it be that the main man behind the franchise has perhaps lost faith in the project? Are there creative differences at play with the studio?
One thing's for certain - it's already a rocky start for a franchise that some fans believe is now best left alone.
Do you think James Mangold's vision could live up to its predecessors?