X-Men: Apocalypse First Look At Nightcrawler
Production begins on the X-Men: Days Of Future Past sequel.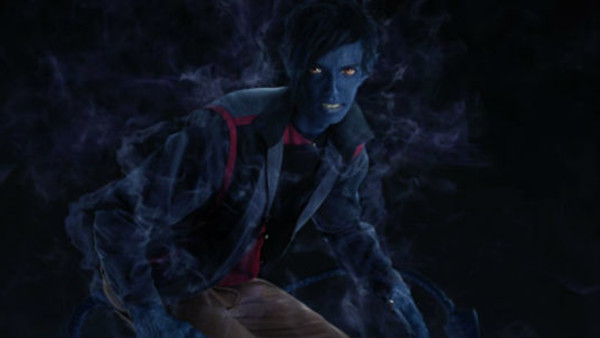 Bryan Singer has officially kick-started production on X-Men: Apocalypse today and to mark the occasion, 20th Century Fox have revealed the first image of Kodi Smit-McPhee as Nightcrawler. Real name Kurt Wagner, the German born mutant marks his first appearance in an X-Men movie since Alan Cumming's memorable turn as the blue tinted, teleporting hero in 2002's X2: X-Men United. In addition to the first official still from the movie, writer/producer Simon Kinberg also took to Twitter to share the first photo from the set of the forthcoming, 80s set sequel, which revealed that the crew are filming a sequence in or around a movie theatre which is playing Star Wars VIII: Return of The Jedi! More a "First Class" cast movie than Singer's original mutants, X-Men: Apocalypse stars James McAvoy (as Xavier), Michael Fassbender (as Magneto), Jennifer Lawrence (as Mystique) and Nicholas Hoult (as Beast) toplining a cast that will also see the return of Evan Peters (as Quicksilver), Lucas Till (as Havok) and Rose Byrne (as Moira MacTaggert... not seen since First Class). Oscar Isaac is the lead villain for this one as the title antagonist Apocalypse with newcomers Alexandra Shipp (as Storm), Sophie Turner (as Jean Grey), Ben Hardy (as Angel) and Tye Sheridan (as Cyclops) portraying younger versions of familiar characters previously established in the series. Meanwhile, Olivia Munn will bring Psylocke to the big screen. Although the character did briefly appear in X-Men 3: The Last Stand, it wasn't really the Psylocke that fans will have expected from the comics and Munn's portrayal is likely to forget that version ever existed. A couple of weeks back the actress actually teased what her costume looks like via her Twitter account, which you can see below;
Bryan Singer's X-Men: Apocalypse is set for release May 27th, 2016.