10 Amazing, Obscure Versions Of Video Game Consoles
4. Atari Marlboro Lynx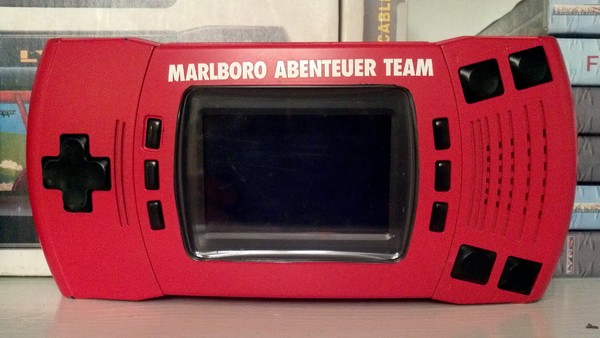 Back in the mid-'90s, cigarettes were still cool. At least, that's what morally repugnant conglomerate Philip Morris strived to convince impressionable kids with their aggressive efforts to slap the Marlboro brand all over a range of products directly targeted at the youth demographic.
The tobacco firm already had something of a history in attempting to hook kids of the stuff early, their branding appearing all over the billboards of 1982's Pole Position. It's somewhat surprising to see cigarette adverts in a video game these days, but within the context of a Formula 1 sim at a time when the sport was awash with such product placement, it was passable as a point of realism.
The Marlboro Atari Lynx, on the other hand, is absolutely shocking.
Only 50 units of the blood red handheld were manufactured as a tie-in with the company's lifestyle brand 'Marlboro Adventure Team'. Smokers could collect tokens with the purchase of every pack of ciggies; if they collected enough, they could redeem goodies - such as this despicable Lynx. What's worse, Philip Morris commissioned the development of a pack-in motocross game, Marlboro Go, which was clearly and cynically intended to familiarise impressionable players with the brand as early as possible.