10 Best Garage Rock Albums Since 2010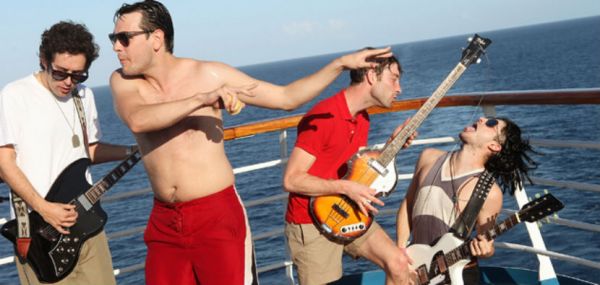 Writing a 10 Best Garage Rock Albums list proves more difficult than you would think. The genre in itself melts in to so many sub-genres, that being, 'Lo-fi', 'Psych-rock', 'Garage-surf', 'Surf-rock' etc, so keeping this list at the core of what we can all agree is 'Garage Rock' has taken some serious thought. And when a genre has bands who pump out numerous albums a year, feeding this ever growing life force that it is, where do you even begin narrowing down the best of the best? The last three years in Garage Rock have become all the more internal. We've seen collaborations, compilations, split EPs, guest vocals and guest instrumentals from the major contributors to this musical grunge bucket of the Tens. Ultimately though, it's creating this mass youth-generation of raw, rock n' roll players and I don't see anyone complaining. So, let's see who we end up with, shall we?
10. Los Dos Hermanos - Bourbon, Blood And Seafoods (2013)
Perhaps a little less known to the 'mainstream' side of Garage Rock are a band called Los Dos Hermanos. Their album Bourbon, Blood and Seafoods was released on French label Howlin' Banana Records this year and made it to my top ten list without a second thought. This duo is based out of Bordeaux, France with Billy Dorados on guitar and Carol Tweedlady on percussions, constructing the album into an old school artefact with their love of French history in tunes dedicated to the days of yore like 'Robespierre' and 'Louis XVI.' These two supply the perfect arrangements of twangy and summery rock riffs, all the while keeping in tune with punky and fast beats. Highlights of the album include the fuzzy eruptions of volcanic 'Loud,' and wacky carnival of sins track 'No 13' which screeches the echoey lyrics "I wanna be your Valentine" behind a clutter of distortion. Naturally, Los Dos Hermanos must give credit to the West Coast rock scene of the US as gritty waves of electric sound crash over 'Blue Night Summer,' added by the haunted howl of Dorados on vocals. Most of all, this album is just purely catchy. Bourbon, Blood and Seafoods would be an essential for any follower of this genre and a band who I'm sure would stir up a storm at any one of their shows.