10 Life Skills Beyoncé Has Taught Us All
Place your hand on the Beyble and recite the 10 commandants of Beysus.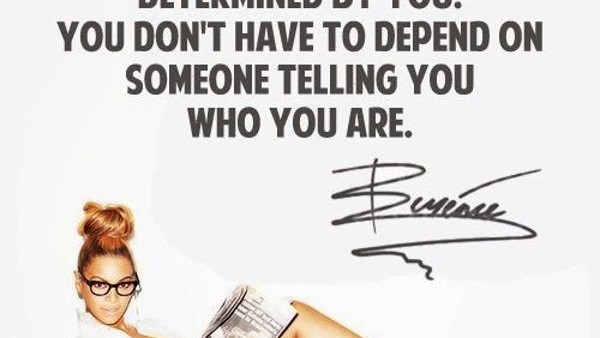 From girl power to grown woman,  the life of Beyoncé has been full of little nuggets of wisdom. As a solo artist for 12 years and a Destiny's Child member for 7, Bey's sassy brand of empowerment has nurtured us from childhood to adulthood. Whether she was schooling bad boyfriends, shaking it on the dancefloor or generally singing about how badass she is, the Beyhive have hung on her every word since the very beginning. 
The world has been witness to her ever growing empire and her influence stretches far and wide. TIME magazine notably included her in their list of 100 most influential people in the world in both 2013 and 2014. Her status as one of the most hard-working and recognizable woman in popular culture has captured everyone's attention. 
You'll struggle to find another singer-songwriter who drops a secret album, publicly claims the word feminist (in a spectacular diva like fashion), tours relentlessly and still makes it home in time to take care of her husband and child. There's next to nothing that this multifaceted Mama can't do. As an all around Goddess, the teachings of Bey provide us with some handy skills we can use in our day to day lives. Need to actualize your own state of flawlessness? Fear not, the Queen has got you covered. 
10. Dance Moves
https://www.youtube.com/watch?v=RioOJ7dZxuw

It's difficult to find another star that can strut her funky stuff like Queen Bey. With an iconic repertoire of dance, you're spoilt for choice. You could shake your jelly crazy in love style, handle some single Ladies choreography like a boss or you and your bestie could tag team Beautiful Liar (just avoid getting into a fight about who gets to Beyoncé and who gets to be Shakira) Regardless, Bey has got you covered on all fronts when you step onto the dancefloor. 

Still Struggling? The extended video mix of Get Me Bodied has some simple yet fabulous moves such as the weave pat and Naomi Campbell walk. Go forth and work it. Our Lord and Saviour decrees it.