10 Most Important Beefs In Hip-hop History
The disputes that left a permanent dent on a genre like none other.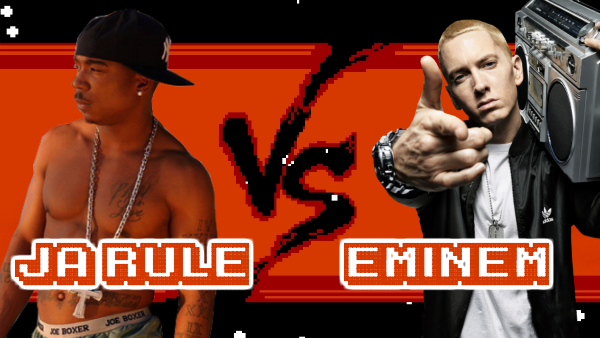 Competition has been ingrained into hip-hop's lifeblood since the very beginning, with battle raps, cypher and freestyles springing up not long after DJ Kool Herc first birthed the genre.
Whether they're the product of macho posturing, perceived disrespect or commercial agendas instilled into fledgling artists by their labels, arguments or 'beefs' have been the source of both rampant innovation and heartache. With the rap industry's code of conduct irreconcilable with any other musical categorisation, the onus placed on respect, credibility and authenticity means that any snipe or jibe must be rebuked with swift and merciless verbal (or sometimes physical) retribution.
A key component of the rap game which has both enhanced careers and spelled the end for MC's that simply couldn't return from vicious putdowns or; in extreme cases, physical assaults on their lives, this age old test of a rapper's fortitude persists into the modern era with The Game recently levelling brutal remarks towards Meek Mill and the distinctly less street savvy Sean Kingston.
Charting those which were the source of infamous diss tracks and those which transcended music and into a more dangerous realm, here's a rundown of the most important beefs in the storied history of hip-hop to date.
10. Kendrick Lamar's 'Control' Verse Lights A Fire Under Hip-hop
It's a fair assumption that when Big Sean invited much loved MC Kendrick Lamar aboard his upcoming track 'Control' in order to help promote his second full length 'Hall Of Fame', he wasn't anticipating to be not only overshadowed on his own song but rendered completely surplus to requirements.
Not content with phoning it in or delivering any sort of half-baked verse upon this promotional affair, the track would soon become a pivotal moment in the Compton native's ascension to the lofty status of 'King Kendrick' as he took aim at friends, collaborators and hip-hop in general with unmatched intensity. Despite never officially being released on Big Sean's LP due to sampling clearance issues (or so they say), Lamar's blasphemous claims of being a California-based 'king of New York' and forewarning that 'this is hip-hop and these n****s should know what time it is' sent a tidal wave through its comparatively sedated landscape.
Explicitly naming high profile artists such as A$AP Rocky, Tyler The Creator, Pusha T, Mac Miller, Drake, J Cole and even Big Sean and Jay Electronica that appeared alongside him on the track, 'K-Dot' mercilessly declared that while he had 'love for them all', his ultimate goal was to 'make sure your core fans never heard of you n****s.' Whilst some of those that were name-dropped on the track appreciated Kendrick reverting back to the age-old spirit of competition, artists such as Lupe Fiasco, Papoose, Joey Bada$$, Joe Budden, Joell Ortiz and countless others began penning responses or voicing their discontent with the TDE member's claims.
None of the tracks that broached his verse were anywhere near as headline worthy but this remains one of the most important moments in hip-hop's recent history as it sent Kendrick on the path towards the spokesman for a generation of artists, fans and those experiencing wanton injustice that he would become on the modern classic 'To Pimp A Butterfly.'