10 Rock Bands Currently Touring You Need To See Right Now
Stretch those purse-strings, you've got your work cut out for you keeping up with all of these guys.
Come on down to the rock show! Rock concerts are the highlight of any music fan's year. From seeing their favourite shredders tear up the fretboard to any number of opening act€™s vocalists hitting the high notes, 2013 was a huge year for rock music, providing us fans with a slew of epic concerts as some of the biggest names in the industry hit the road on world tours. 2014 is promising to be yet another exciting year for heavy music, with some of the hardest rockers releasing new material and some of the all time favourites saying farewell, there are definitely some big events in store. So get your pit-passes ready as we take a look at 10 shows you won€™t want to miss.
10. Red Hot Chili Peppers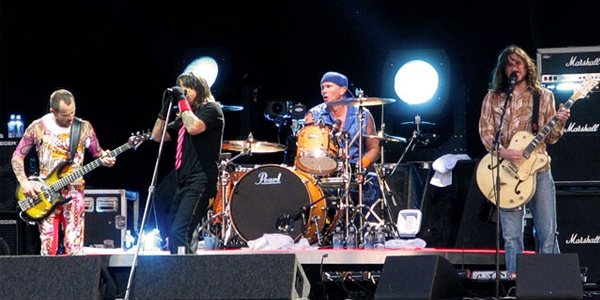 After their Half-Time collaboration with Bruno Mars in February€™s Super Bowl, Flea and the gang are set to play a few more dates in 2014 including one show in the UK. With the success of the 2013 €œI€™m With You€ tour, the seasoned rockers are devoting most of 2014 to writing their new record, according to drummer Chad Smith. Being the iconic face of funk-rock and beyond, if you have never been to a Chili Peppers show you€™re missing out on one of the highest energy, stage-antic filled shows out there. Not to mention they rock some pretty good tunes as well. If they are headed your way this year, don€™t miss your shot to see the living legends. The Chili Peppers are currently headed to South America then booked to play the Isle of Wright festival in June.