10 Song Meanings Fans Can't Accept
The Boss wasn't singing what you thought he was...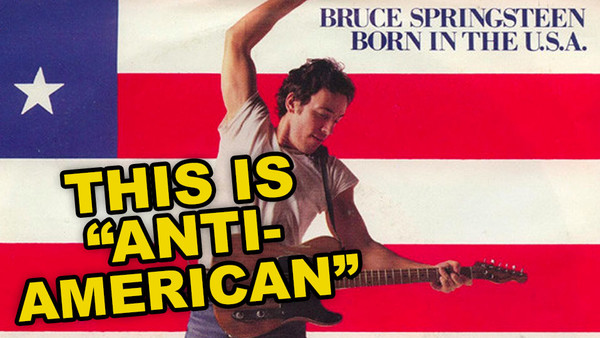 Music is one of the most subjective art forms in the history of pop culture. No matter how much you may think that one song is trash, there's always someone else with a different perspective that renders your argument invalid. The whole thing gets even more fuzzy when it comes to lyrics.
From the moment a song blasts on the radio, fans are more than welcome to take what they want from the singer's lyrical prowess. They can be taken verbatim how they are, but most people tend to look at the words being sung as a metaphor for something bigger than themselves. On the other hand, the subject matter gets so out of hand that even the fans don't even believe the composer.
The lyricist can bear their soul into the lyrics they write, but it's not really their call to say how the audience will interpret their words. This leads to millions of skeptical fans around the world trying to crack the facade behind some of the most famous utterances in rock and roll. Regardless of how many times the writer has set the record straight, these are the interpretations that just refuse to go away.
10. Foo Fighters' "My Hero" Wasn't Written For Kurt Cobain
When the Foo Fighters were first starting out, most of them weren't sure how long the band would last. Given that the band was assembled after Dave Grohl recorded a self-made debut album, no one had any plans for the group's immediate plans going forward. Luckily, the band's future seemed to be in the clear once Grohl came up with the band's first masterwork, "My Hero."
In interviews, Grohl would always say that there wasn't an actual person he had in mind but rather a certain breed of people. The hero is meant to be everyday people who do extraordinary things to help those around them. While it's a nice sentiment, that apparently isn't good enough for some fans.
Since the song was one of the first written after the demise of Nirvana, many assume that the tune is written in tribute to late grunge icon Kurt Cobain. Although Grohl has admitted that the shadow of Nirvana was still heavy on his mind at the time, he still claims that Kurt was far from being the main inspiration of the song. Even though Grohl has distanced himself from his first band in recent years, Cobain's presence will still loom large whenever this song is brought up.