12 Times Eminem Spit Lyrical Fire
Eminem is back and now, he's fillin' 'em with the venom to eliminate 'em.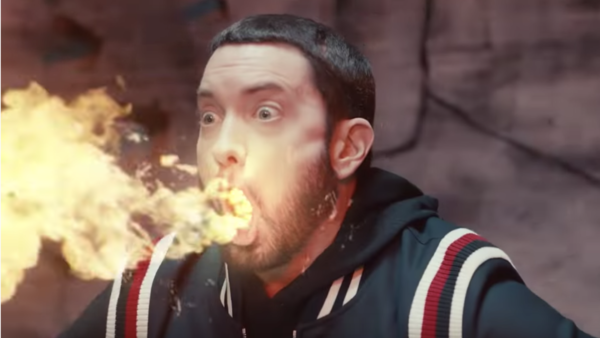 Marshall Bruce Mathers III is the most successful rapper of all time. With a career spanning nearly thirty-years, Eminem has released eleven albums - nine of which have gone at least Platinum.
He has received scorn throughout his career for his lyrical content and managed to persevere, and usually continued to provoke for a reaction. Battling drug addiction in the middle of his career, Em has tried to reclaim his spot at the top since then, but with varying results.
One of Eminem's greatest qualities is his venomous rhymes highlighting his passion and hunger. When he was battling addiction, the hunger he once possessed had been subdued, and he had bigger things to worry about.
However, after releasing Music To Be Murdered By earlier this year, Eminem's stock is fast-rising again. He has re-tapped into his desire to be the all-time greatest rapper, and his latest release is his best in well over a decade.
So removing his limitations, with no more imitations, can the real Slim Shady please stand up?
12. Godzilla (Music To Be Murdered By)
Following suit from his 2018 album, Kamikaze, Eminem surprise-dropped Music To Be Murdered By in January this year.
With artwork and album title paying homage to Alfred Hitchcock's, Em showed how he views his music as artistically important. Sounding more in touch with contemporary music, while remaining distinctly his own, Music To Be Murdered By is his best album since The Eminem Show.
Just before the album's midway mark, Godzilla begins. Referencing 2013's Rap God, this track is alluring. Once a short movie sample finishes, Eminem jumps straight into rapping about his skills. Spaced between a slurry hook by the late Juice WRLD, Em changes his flow demonstrating the expanse of his skills.
At the end of the lengthy third verse, Em unleashes a catchier, more complex, and longer rap truly boasting his lyrical prowess. The beautiful pace in the lines, ''cause I'm beginnin' to feel like I'm mentally ill / I'm Atilla, kill or be killed, I'm a killer bee, the vanilla gorilla,' proves how much work Eminem is putting into his music. He continues, '…be on the receivin' end of me, what stupidity it'd be / Every bit of me's the epitome of a spitter,' which further testifies that he is untouchable on the mic. In the track, he concludes that he is above being challenged, but will not back down if it happens.
This juggernaut of a track was further made popular through the use of the #GODZILLACHALLENGE, where fans had to send them performing the ferocious lines matching Em's speed. Godzilla is the rapper's best track in such a long time, and while he has moved away from being controversial for the sake of it, this further cements his legacy in Hip-hop by illustrating how, despite the lows of his career, he is still one of the best emcees today.