20 Best Album Covers Of 2021
Where burning hoops and giant devil heads are a good thing.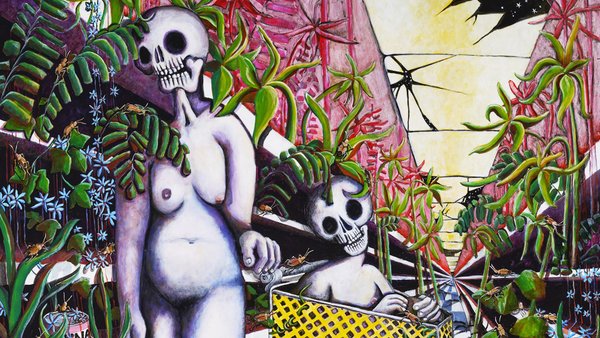 If every artist put as much creativity into their albums' artwork as Adele did, lists like this would not exist.
Thankfully, a majority of them see artwork as an integral part of the overall artistic project, and set out to not only make covers look pretty, but also to tie them in with their music, be it thematically or aesthetically. Cover design is a subtle craft, more demanding than it seems. In between lazy vacuity and overdone complexity, putting just the right amount of meaning and technical skill into a cover is all but easy. The following 20 artworks managed to do so.
Given the quality of 2021's crop though, honourable mentions are inevitable. They go to Porter Robinson's Nurture, Navy Blue's Navy's Reprise, Halsey's If I Can't Have Love, I'll Have Power, Hubert-Felix Thiéfaine's Géographie Du Vide and Coldplay's Music of The Spheres.
20. Chemtrails Over The Country Club - Lana Del Rey
Having just poked fun at Adele's, it may be weird to start this list with someone whose album covers have also been, for the most part, rather indifferent. While Lana Del Rey undeniably has a poet's ear for a well-written lyric, it's not that obvious that she has a painter's eye for a nice artwork.
Yet, this seemingly dull cover does come alive when listening to the album. It's exactly the type of photograph every song seems to have been written melancholically sighing over.
You can vividly imagine Del Rey stumbling upon a similar photo in an old magazine and finding in it all the inspiration needed for her Norman !*$% Rockwell follow-up: the '60s setting would get her thinking about Joan Baez, Joni Mitchell and other idols of hers from that era, hence triggering other nostalgic music memories; the appearance of a simpler time when it was all white dresses and smiling country club housewives would fuel her escapist imagination; the midwestern vibe would go brilliantly with an album she wanted to be "Midwestern-sounding", and all-in-all, this picture would be the perfect visual companion to her work, as she continues to write her ever more important chapter in the great Americana songbook.
Before you engage with the album, this cover is meh. Afterwards, you feel like it's the only possible one.