20 Best Hard Rock & Heavy Metal Albums Of 2018 (So Far)
The extreme juggernauts that have defined the early months of 2018.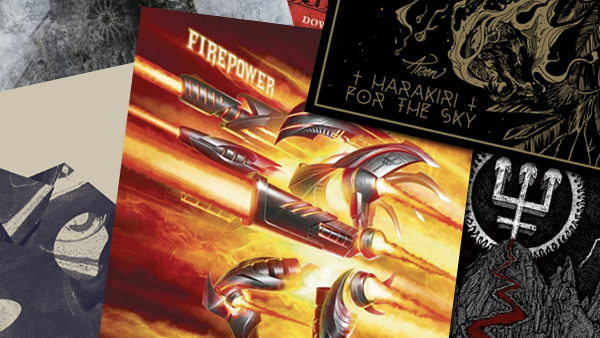 As far as metal goes, 2018 has been... a weird one. The genre has done so much wacky sh*t over the past few months that it has genuinely boggled the mind on a very regular basis. On this list alone, we have a hooded doom metal group, an act dedicated to Godzilla, a band fronted by a clown and an album dedicated to 1940s film noir.
And then, mixed in with that, we have more black metal than anyone could ever want in their lifetime, prog for days and even some exciting debuts, all alongside a plethora of beloved records that die-hard rock 'n' roll addicts have been waiting for for aeons!
Needless to say, this is going to be a pretty jam-packed list. So much has happened in metal this year that condensing it down to twenty for January through to the end of April just feels cruel. But that's what I'm going to do because A) this music all deserves to be promoted, and B) I'm a glutton for the punishment of your cruel, cruel feedback in the comments section.
Let's do this.
20. Rolo Tomassi – Time Will Die And Love Will Bury It
Originally, the opening slot of this list was occupied by Between the Buried and Me's acclaimed Automata I. However, it was ultimately knocked off for two reasons:
1) While Automata I is fantastic as the opening half of an album (destined to be completed this summer by Automata II), by itself it felt short and even somewhat incomplete.
2) Rolo Tomassi are one of the most fantastic underground bands in the UK right now (if you don't believe me, ask Trivium's lead singer) and with their fifth album, they truly deserved to be featured here.
Time Will Die and Love Will Bury It represents heavy, punk-inclined rock 'n' roll at its most oddly enchanting. The vocals of frontwoman Eva Spence are truly to die for and always welcome the listener in a warm, enticing embrace, even after a hundred times. Then her growls kick in and become the perfect, nightmarish counterpoint, heralding manic breakdowns on cuts like "Alma Mater" and "A Flood of Light". But even during its heaviest moments, Time Will Die and Love Will Bury It always feels inexplicably uplifting. It uses destructive music to create an oddly happy vibe, which has left me truly transfixed.
If nothing else, Rolo Tomassi expertly expand upon the emotion and delivery of traditional hardcore.