50 Best Hard Rock & Heavy Metal Albums Of 2017
A massive metal list for a massive metal year.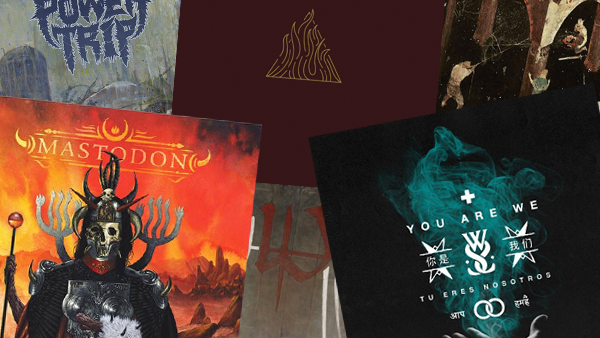 Much like the year that came before it, 2017 has been a heavy metal beast, albeit in a very different way to 2016. While last year saw gigantic albums from the likes of Metallica and Megadeth, the past twelve months have asked metalheads to look a little bit deeper beneath the surface to find the truly quality material.
While groups like Mastodon, Creeper and Stone Sour have affirmed their status as acclaimed yet chart-friendly rock acts, artsy and experimental extremity from the likes of Uneven Structure, Ne Obliviscaris and SikTh has been the true cream of the 2017 crop.
As a result, this list goes out of its way to balance out titles from both underexposed and hugely popular bands, in an attempt to demonstrate the sheer versatility and ever-expanding reach of heavy music over the course of the past year.
As an addendum, if there's an album that you don't find on this list that you think deserves a spot, you might be able to find it in our "20 Best Metal Albums of Winter/Spring 2017" and "20 Best Metal Albums of Summer 2017" articles. Also, EP's aren't going to be making the cut, so if you're waiting for releases like Mastodon's Cold Dark Place and Schammasch's Maldoror Chants: Hermaphrodite to get their just deserts, worry not: their time will come very soon.
50. Stälker – Shadow Of The Sword
The extreme, old-school aggression of Stälker's full-length debut Shadow of the Sword starts out our lengthy venture through metal's best of the year, just to let you rock addicts out there know that this list won't be afraid of bringing the underground, heavy sh*t that you lot love to lap up in spades!
With its gritty riffs and production calling back to the primal proto-thrash of Venom and Angel Witch, Shadow of the Sword is a time capsule to the NWOBHM at its very darkest.
Shadow of the Sword is a disc that recaptures lightning in a bottle by emulating the murky sound quality and shoddy vocal mixing of heavy music's UK roots. And in any other context, such things would spell the kiss of death for a record, but with Stälker's music too both strongly rooted in but also expanding upon the work of early Slayer and Demon, it all just works to a tee in resurrecting rock's most lauded era.
The way opener "Total Annihilation" and single "Shocked to Death" rattle with their ceaseless, Kerry King-like riffage is the perfect companion to the lengthy "Path of Destruction", its slow, harmonic start channelling Iron Maiden at its most anthemic.
For those looking for a timeless experience, this album is not that. But what it is, is really solid metal perfect for the genre's masses of old-school die-hards, as well as a blistering way to start out this huge list.