Bullet For My Valentine Interview: Gravity, Alexandra Palace & 10 Years Of Scream Aim Fire
Matt Tuck invites us to spend a day in his band's rehearsal studio.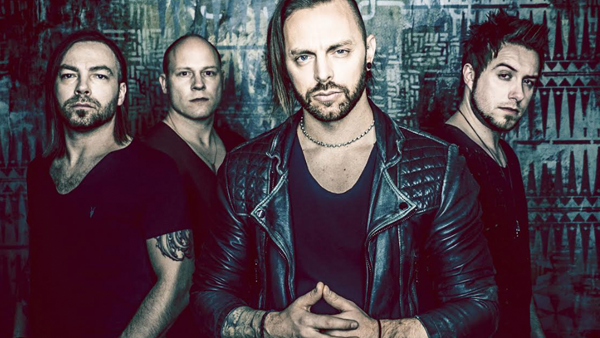 Without any exaggeration, Bullet for My Valentine could well be the most important British metal band of this century. Back when extreme music was a genre dominated by American aggressors like Lamb of God, Machine Head and Slipknot, the Welsh rabble-rousers had the gall to put their home country back on the map with their fiery 2005 debut The Poison. By introducing the destructive riffs and high-flying melodies of the then-niche metalcore movement to audiences east of the Atlantic, Matt Tuck and co. secured their game-changing legacy in one fell swoop.
Jump-cut to over a decade down the line, and Bullet remain one of the UK's most popular heavy metal exports. After sharing stages with some of the biggest names in rock (and headlining a plethora of festivals and worldwide tours in their own right), the mavens are on the cusp of their unprecedented sixth album, Gravity, as well as a career-defining show at London's legendary Alexandra Palace.
To chat about all of this and more, I got an exclusive invite to sit down with frontman Matt Tuck inside his band's rehearsal studio in south London:
Matt Mills: "Bullet's got a busy few months ahead: the new album, a festival run and then a full world tour straight after that. Is it quite overwhelming to look at your schedule at the moment?"
Matt Tuck: "It can be, but in the grand scheme of things there are a lot of gaps as well. We could go a lot harder, but we've learnt to hold it back a bit."
"As an established band, is your schedule more hectic now compared to when you were younger up-and-comers?"
"It's the same, but on different levels, really. Instead of being in a little, pokey shed in Cardiff to rehearse, we're in massive places like this. But the schedule is still the same: we still have to rehearse, we have to travel, we have to play. So it's still hectic and the build-up to Gravity was hectic, talking my arse off every day."
"Gravity is one of those anthemic albums where it feels like every song on it could be a potential hit. So what do you think is the secret to writing a 'hit' metal song?"
"It's just a formula that we've stumbled on from a very early point in our career. We've always had anthemic, catchy, aggressive songs, but on this [album] especially, we just wanted to write songs. We weren't interested in showing off our abilities individually or having that 'metal' cred."
"There are hints of electronic rock on this record with 'Leap of Faith' and 'The Very Last Time'. How did those elements end up sneaking into the fray?"
"We'd experimented with it slightly on Venom with songs like 'Worthless', and then the stand-alone single at the end of 2016, 'Don't Need You', went that little bit deeper with a string section. We really liked it, because it enhances the sound and the feel of a song. It's like a movie soundtrack: take that away and you just have some dudes acting. All these low-ends just give it a completely different feel. We just kept writing and experimenting, taking songs way too far and then bringing them back."
"How often did you end up taking songs too far and needed to dial them back?"
"Only a couple of times. 'Letting You Go', for example. If you heard the first version of that, you'd lose your mind! It was basically a drum-and-bass track."
"Can you talk a little bit about the lyrics of this record? Is there an overarching concept there?"
"It's very personal; it's all about me. The last two years of my life have been very up and down emotionally. I've been through a break-up and I have a family, and all that stuff has taken its toll. That led into a bit of a downer: I had issues with anxiety and then some depression issues. So I'm just telling people all about that."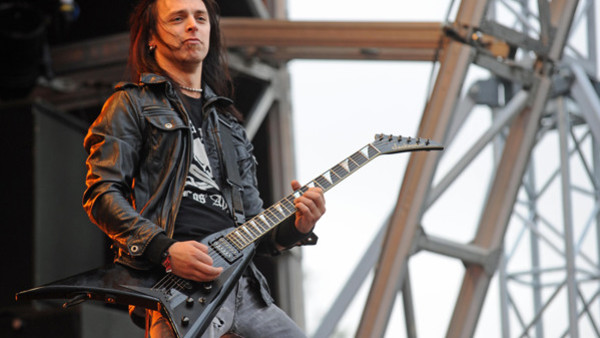 "This is very much 'The Matt Tuck Story', then?"
"It is, yeah. It's showing a very different side to me that I've never shown before. It's [a] very vulnerable, tender and up-and-down version of me. It wasn't something that I intended to do, but the more I was doing it, the better the songs started to become. The more tortured I've been, the better this album has become. Such a cliché! Haha! But it is my favourite Bullet record."
"How did you ultimately overcome those feelings of anxiety and depression?"
"It was more just being mentally strong enough to deal with it, unfortunately. I'm not a very outgoing person and I like to bottle things up. I don't like to speak about my emotions to people, so I think having the band and music really, really helped me. Otherwise, it would still be inside. I used it as an outlet and, as the songs started to develop, I felt like I had a purpose again. I didn't even want to write songs, I couldn't be arsed. I just kind of dealt with it: I had the outlet of song-writing and as soon as that started I went to a therapist. Then the break-up thing started to calm down, so it took a lot of time and a lot of things coming together at the right time."
"Is that where the title 'Gravity' came from – that idea of being dragged down by all of those feelings?"
"Yeah, the weight of the world on your shoulders, constantly dragging you down. And then, having the wings on the [album's front cover] is the moment where you can just f–king take off. Having them look super vibrant was purposeful: we didn't want it to be all doom and gloom."
"You're playing Alexandra Palace on the tour for this album, exactly a decade after your first show there. Why did you want to commemorate the tenth anniversary of that initial gig?"
"It wasn't deliberate. But it's an all-standing arena, which helps the vibe and the energy of the crowd, and we don't want to repeat the same venues year in, year out, so it's just finding different ways to keep it interesting for us and the fanbase."
"And when you first played Ally Pally, you were promoting Scream Aim Fire, which many fans consider to be your strongest release. Looking back, what are your thoughts on that album?"
"Not positive ones, I'm afraid. I was going through a really hard time vocally and with health issues because of what The Poison did with no warning, no training and no education about touring. I ran myself almost into the f–king grave because of it. I don't have fond memories of that record and I can't listen to it. I haven't listened to it since it came out."
"Finally, Ally Pally's hosted a number of modern British metal bands recently, like Architects and While She Sleeps. Do you think Bullet helped open the door for younger names like that?"
"We've been doing it since 2004, The Poison came out in 2005 and the rest is history! I think we were the only UK metal act doing anything like the numbers that we had. So I think we've definitely opened the door and generated a whole new wave of British metal bands. I can't see another band that would have done that for the genre."
Gravity is out on 29th June via Search and Destroy.
Bullet for My Valentine will play at Alexandra Palace on 10th November.
Create Content and Get Paid
---