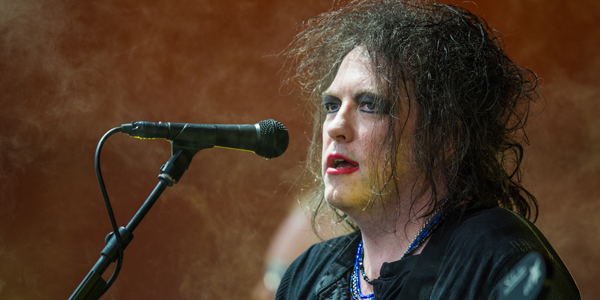 The Cure recently sold out two nights at the Royal Albert Hall to support Teenage Cancer Trust and have also announced vague details of a new album and tour. So, it seems appropriate to celebrate the career of one of Britain's best alternative rock bands by outlining 20 of their greatest songs. Formed in 1976 The Cure have been through many phases - many of which casual fans may be unaware of. They've been described as Post-Punk, Gothic, Pop-Goth and everything in-between, but in reality, no single one of these categories fit the band as their musical output over the years has been so varied. How many other bands write pop-songs like Friday I'm In Love or The Lovecats (neither of which are on this list) and also form beautiful albums like Disintegration or terrifying songs like One Hundred Years (featured later on)? So back-comb your hair, put on your eye-liner and get ready for the top 20 Cure songs. It is going to be a dark ride but there will be some light at the end of the tunnel. Fans of The Cure will no doubt have their own favourites but this list has been formed in terms of listening pleasure at this moment in time, though an effort has been made to recognise both the darker songs and the lighter moments produced by the band. Separate articles could easily be written about the Top 20 dark Cure songs, light songs or songs about cats. There are many other Cure songs that may or may not get into a Top 20 on other occasions but that says a lot about the variety and consistency of the band's 35 year career.
20. Lovesong (From 'Disintegration')
http://youtu.be/ks_qOI0lzho This is far from the greatest Cure song, but it can not be denied that it features some great instrumental parts. Taken at face value the lyrics are instantly corny, but they have a sweeter side when we consider the song was written by Robert Smith as a wedding present for his wife. Lovesong is unlike most Cure songs: there is no dark edge here, no bitterness, regret or aggression just pure love wrapped up in a 4 minute radio tune. Adele famously covered the song on her '21' album and whilst her version has great vocal delivery it is missing the romantic bass-line and guitar lines that made the original so special.
19. 39 (From 'Bloodflowers')
http://youtu.be/JgSZbqlF0kU For some reason this song does not seem to be well-loved by The Cure community, and while it may seem slightly over-the-top, the song remains grounded thanks to the genuine feeling in Robert Smith's vocals as we get the sense that he believes exactly what he is singing. Perhaps the song is unloved due to its unusual mix of guitar and electronica influenced drums and dramatic synth lines, but the song is full of intensity like all good Cure songs should be. The two guitar breaks in the middle of the song are particularly good especially when they are accompanied by the keyboard lines. Some Cure songs just come alive when the are played live and this is certainly one of them. Maybe the song is slightly overshadowed by the closing title song but taken in isolation it is a great song to listen to.