Download Festival 2019 Review: Slipknot, Def Leppard & Tool Headline
2. Saturday
Saturday's kick-off comes with a sting as Royal Republic and Yours Truly clash, but these things happen and anyone who chose to see the pop punk Paramore-like latter band would have had a rousing, smile-inducing experience continued elsewhere around the UK as they support State Champs. Catch them if you can.
Royal Republic were the start proper of Saturday after the monstrous, heavy sound of Alien Weaponry, whose music feels like a Maori war cry set against a bassline so deep it'll rattle your lungs clean out of your chest and machine-gun drums. Quite the wake-up and better than any coffee and they set the stage nicely for Royal Republic.
If you're thinking it's an odd choice to jump-start the main stage of Download on the same day that Slipknot are performing here with four clean-cut, extremely well-groomed Swedes in red velvet jackets and pearl necklaces then you'd probably be right - at least at first glance. As frontman Adam Stahn points out however, "it takes a lot of balls to wear this the same festival that Slayer are playing", and that's exactly what Royal Republic have an abundance of.
Their quirky blend of bright indie-pop, smooth guitar solos and tongue in cheek content - both on record and on stage - is perfectly executed by a band who have real heavy credentials behind them, even teasing the crowd with a short rendition of "Battery" by Metallica. It doesn't take long for them to turn the skeptics into dancers, maintaining the pace with classics such as "Tommy Gun" mixing well with the likes of new 80's styled album Club Majesty's "Anne Leigh". And they leave a great big smile across the audience.
Lunch-time beckons with sounds of Behemoth clattering bones on the Main Stage and burning them clean with more pyro than you'd expect of a headliner. Hailing Satan is all of a sudden a lot more popular. Then come festival favourites Skindred, who affirm their beloved status with a crowd bursting at the seams and in the mood to dance. The band oblige with blimp-sized bangers like "Nobody" and crown the entire thing with a rendition of The Prodigy's "Out Of Space" as a touching tribute to Keith Flint.
Elsewhere, rumbles of The Hu's incredible set on the Dogtooth Stage make several thousand sets of ears envious (where else could you see Mongolian throat singing at a Western festival and combined with raw power. But if you managed to get away from Skindred, you could catch one of the real hidden gems of the entire event. It was one that wasn't to be missed and you get the sense that they're going to be back.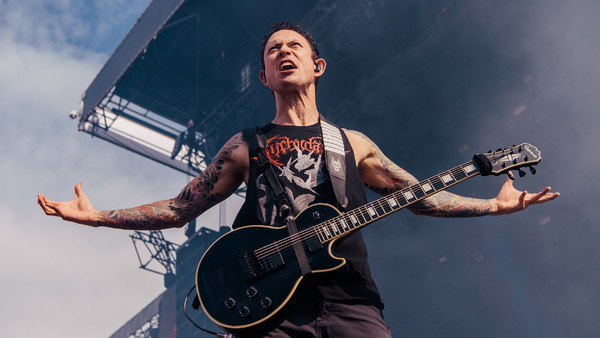 Later back on the Main Stage came Trivium, after an astonishingly long break from this festival that didn't show any cobwebs (well, it wouldn't - they're one of the most accomplished live bands in the world right now), and then the unexpected, high energy joy of Die Antwoord. Yes, they stick out as an anomaly on this billing, because they're in no way a rock band, but they don't half boast some heavy metal balls on them.
If you were expecting them to wilt under the pressure of playing as outsiders, you've never heard Die Antwoord before.
It's a shame that Slipknot's return to Download meant having to cut off Simple Creatures' Avalanche Stage performance, but that's the way the cookie crumbles. And nobody wanted to miss the new masks, the new music and the same old swagger.
The Iowan natives made their main stage headlining return with a thunderous bang, kicking off a blistering set with "People=Sh*t" and reminding anyone who had perhaps forgotten in their three year touring absence exactly what Slipknot are all about.
As Corey Taylor himself put it at one point, he wasn't going to "kayfabe" that this return almost wasn't possible as just hours before the band were grounded in Switzerland and unable to fly until the last minute, coupled with the other personal struggles, but you wouldn't know to look at them onstage tonight.
As harmonious, bold and theatrical as ever, with newer tracks fitting seamlessly in amongst the older anthems in their now 20 year library, Slipknot lit the crowd up all the way to the exit doors and truly gave meaning to the term "All Out Life".
And now to Sunday...