EXCLUSIVE: "Nobody Tours Like Us" - The White Buffalo Chats Sons Of Anarchy, Dream Duets & More
"If I can't just hit people in the heart with my guitar and myself, why am I doing this?"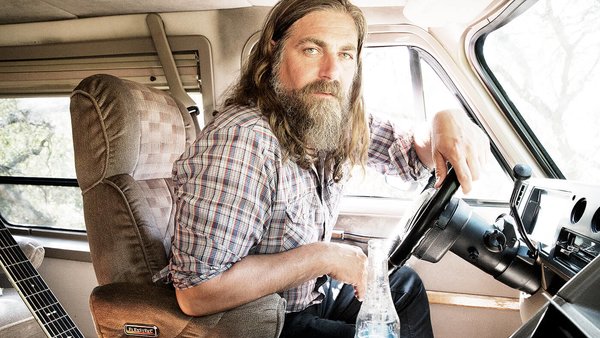 It's 6pm in Glasgow, three hours removed from The White Buffalo's headline slot at the O2 Academy and a gargantuan man with long, silver hair and a majestically fuzzy beard nonchalantly approaches me for our interview.
"Hi, I'm Jake. Nice to meet you."
Not only is Jake Smith, AKA The White Buffalo, incredibly friendly and endearing, he's also possibly the most nonchalant person in Scotland at this moment in time. Particularly surprising, that part, because of the day he's had.
"For a band of our... draw, or whatever, nobody tours like us. We don't have anyone. On this, we have one tour manager. In the States, I do it myself."
While Jake has relinquished that control for this part of the tour, he's still doing much of the heavy lifting - quite literally - as the band have driven up from Newcastle for the fifth of their six-show UK tour, loaded in all of their equipment into the venue, had a quick wander around Glasgow and returned.
"The reality is, it's always been nice to be just the band. It's just three guys rocking up to a venue where, the night before, they had two buses and we show up in a minivan. They're like, 'Where's your stuff? Where's your crew?' Like, 'Well, it's just us.' The reality is, if I can't just hit people in the heart with my guitar and myself, like, why am I doing this?"
If you're expecting a show filled with pyro and big screens, you're not getting that at a White Buffalo concert - but the energy is certainly explosive at 9pm when the lights are dimmed.
"The better the venues get, the better the sound guys get, the better the lights get and we talk about the balance between, you know, 'Are you holding yourself back by not allowing all this other stuff?' And I come to the conclusion it's like if it's if it needs to be done, if you need to be like, 'Okay, s**t, we need to get a designated merch person, we need to get a tour manager, we need a sound guy, we need a lighting guy, we need f***ing costumes or whatever. You know, it's like, 'cross it when it comes'."
If there's one word to describe a White Buffalo live performance, it's "primitive." Everything is raw, emotional, and very powerful. However, sometimes that power can be detrimental, as his last UK tour saw Jake forced to cancel a gig for the first time in his life. The White Buffalo's last Glasgow gig, in fact, was in this very venue, but his voice was not as present as it usually is - thanks to a bout of laryngitis.
However, that's also a lesson learned for this tour. While Glasgow is the fifth date of six on the tour, there's a two-nights-in-a-row maximum with a day break in between.
"It's tough. I mean, I try to do... Three in a row is about my threshold because I really push and perform. If I go much more over that, it's often catastrophic."
Thankfully, there's no repetition on this tour, and no need for steroid vaccinations to get through the night. However, there's another notable difference. Attend a White Buffalo show nowadays and you'll find yourself playing a game of "Where's Waldo?" in the form of SAMCRO shirts, but attend one five years ago and you'd have likely spotted more Sons of Anarchy merchandise than White Buffalo shirts in the crowd - although, as Jake jokes, that may once have been due to his name had he not decided to use an alter ego on stage.
"Some friends told me I needed a stage name. I mean, you can't really sell T-shirts with 'Jake Smith' on it or whatever. I like the idea of a little mystery and a little something that it could be a number of different things - and it's maybe just one guy writing the songs, but I like the idea that it can be something grander, but also something more mysterious than Jake Smith, because that's boring, right?"
Of course, Jake Smith - or White Buffalo - has had anything but a boring last few years, with songs used in Californication, Punisher and many others, but Come Join The Murder's inclusion in Sons of Anarchy really sent The White Buffalo's notoriety into another stratosphere. One thing I wanted to know from the man himself, is how noticeable was that from the stage, and is there any resentment that some people may come to his gigs and only know - or care about - that one song?
"That whole affiliation has been a gift. It's enabled me to go anywhere in the world now, almost, or anywhere that that show was fairly popular because it was such a big part of the show, part of the soundtrack, part of the story, kind of. And now I always look at it as only a positive thing."
Smith added that, as a band who aren't often found in the mainstream charts, being lucky enough to be featured on TV shows is the next best thing for spreading the word - before revealing the origins of how the band started playing the song live anyway.
"As a band that's not a radio band, those TV licenses and movie licenses are the best way to spread the word. I remember I did an interview in the States and we didn't play Come Join The Murder because I didn't write the lyrics and so I feel a little unattached to it. I said, 'Oh, yeah, we don't even play it.' He's like, 'That's selfish.' And I was like, 'Oh, you're you're totally right.' And so then now we start playing it. And then we played it pretty much every show after that. I mean, I don't think there's that many people that are just here for that but if you come and pay your money, it's fine with me!"
With so many songs popping up in hit TV shows, is there anything Jake Smith could tell us about any future tracks hitting the screens - or any he'd love to be featured in personally?
"No, I mean, I see I see things that I think can work. I mean, anything that kind of skirts the line (could work) but even my catalog is so varied with love songs and heartbreak songs, but then darker, murder songs and and stuff that it's pretty vast and even different kind of feels and emotions."
One song which hit major heights recently which has gritty folky-country vocals not too dissimilar to White Buffalo's, of course, is Shallow from A Star Is Born. I divulged to Jake that, in hopefully the least offensive way to Bradley Cooper, that a cover of the track with him and Lady Gaga would be incredible, might there be a duet he'd love to do personally?
"If it's alive or dead, somebody like Ray Charles or maybe Joe Cocker or something, somebody who's got some grit and some power, but then it might be cool to juxtapose it with somebody else or have it be with a female singer. Maybe Streisand! Go to the earlier A Star Is Born. Speaker2: I mean, she's hard it's hard to trifle with Babs."
For now, though, Jake's duets are with incredibly vocal crowds across the UK who have waited three years for his return - and whether they arrive at this gig as Sons of Anarchy fans, Californication fans, Punisher fans, or whatever else - there's no doubt that Jake Smith's ability to "hit people in the heart with his guitar" will only make the herd of White Buffalo fans even grander.
Create Content and Get Paid
---