Exclusive: Alice In Chains' William DuVall On New Album "One Alone" & His DIY Approach To Music
Highlights from an in-person New York City chat with the Alice In Chains frontman.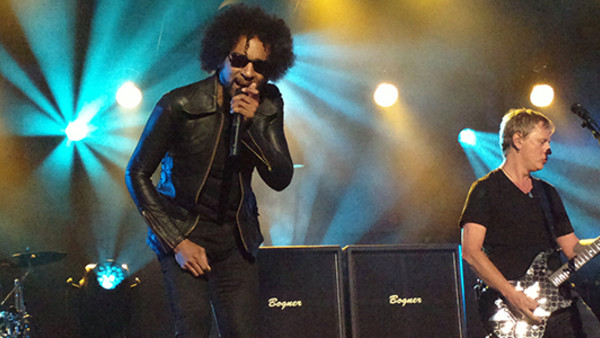 With over 20 million albums sold, the Seattle-based quartet known as Alice In Chains first made a global impact with its 1990 album Facelift, as featuring the still-awesome "Man In The Box." Plenty of hits and awards would follow for Alice In Chains, which disbanded as a result of the 2002 death of original frontman Layne Stanley.
Alice In Chains - now composed of guitarist/vocalist Jerry Cantrell, drummer Sean Kinney, bassist Mike Inez and vocalist/guitarist William DuVall - officially regrouped in 2006 and have since released three full-length albums. The latest from AIC is last year's Rainier Fog, as produced by Nick Raskulinecz, who has helmed notable releases by Foo Fighters, Mastodon, Korn, Stone Sour, Superdrag, Rush and the Deftones.
Currently, Alice In Chains is out with the earlier-mentioned Korn for a North American summer amphitheater tour, yet William DuVall is already looking ahead to the fall of 2019 as will be releasing his debut solo album One Alone then. Scheduled to hit stores on October 4th via DuVall's own DVL Recordings, One Alone is an all-acoustic, full-length studio effort featuring DuVall on both lead vocals and lead guitar duties
Thanks to PureGrainAudio.com, I had the pleasure of speaking with William DuVall in-person at The Ludlow New York City in New York about the One Alone album and more. The full chat will be aired next month via the Paltrocast with Darren Paltrowitz podcast. In the meantime, more on DuVall can be found on Twitter and Instagram.
That Dionne Farris song you co-wrote, did that lead to a publishing deal and then you could focus on artistry?
William DuVall: Well I suppose it could have but who I am, I went to the ASCAP Pop Awards and all that stuff and just got wasted. And you know I was kind of the odd duck in the room... I had nothing on these people in L.A. at the Beverly Hilton or whatever who would just work in the room... It was like, "Oh this is the day we've been waiting for and we've had this on our calendar for months and I'm going to network the hell out of this situation. I'm gonna make sure that everybody here has my business card, my name and phone number...
"I'm just coming out there, getting wasted with Dave Pirner from Soul Asylum. We ended up just trolling around Hollywood acting like f**king fruitcakes, and I had no idea what it really meant to be careerist in a real way and in a way that meant anything to those people, you know? I knew right then and there that I was not meant for that, like I could have gone that songwriter track where it's like, "Oh I'm going on a writing session now." You go on five writing sessions a day... It's like speed-dating... I looked back on that saying, "I can't do that, man. That ain't me. It's not me." So I didn't get a publishing deal, I didn't go the songwriter route. I didn't do any of that.
I took all the money that I made from the song and learned how to make records. I'm [then] living in this apartment in Little Five Points, there's a studio right across the parking lot, right across down the alley there and it's a really nice 16-track. They've got a really beautiful TASCAM 16-track machine, like this state of the art studio... I feel like multi-track recording with tape kind of sort of peaked at the TASCAM 16-track. That's just me, not all people feel that way... They had a TASCAM 16-track here at this place called Casino Studios and Clay Harper -- who's kind of a restauranteur, real estate guy -- he owned the place to rent it out. It was really cheap for what it was.
I was like, "You know what? That's where I'm going. That's what I'm doing." And Madfly came out of me trying to learn how to make records out of Casino Studios. Using all the dough that I made. Everyone was like, "You should do this, you should do that, you should buy it, you should invest real estate, buy a house. You should go to L.A., you should move there, you should become a songwriter guy." I did none of that. None of that. I made Madfly records instead and learned how I want to record the sound and how to make them sound like I want to sound.
If I can project here, you've got this incredible solo album... You're here, you're touring with a band that is playing arenas and festivals and stadiums around the world and is still in top form, and you're one of those people who I guess had to have 20 to 30 years of kind of being screwed over or going the tough road to get to this point instead of peaking when you were in your 20s. So do you find that now life is you are where you're supposed to be?
William DuVall: I think so overall. You can always "What if?" yourself to death, but what is the point?... If I had peaked, as you say, back then not only would I have been a f**king lunatic and probably very well dead by now. I just wouldn't have learned anything. I wouldn't have learned anything about how to be a person, how to be a real functioning human being in the world. I wouldn't have learned anything about how to make the records I wanted and needed to make, because I would have always had somebody to deal with all that. I would have learned almost nothing about the business because again I would have just had, "So-and-so takes care of that... I get a check..."
Now that the whole paradigm has shifted, in terms of not only how people consume music but how the artists are compensated for it, or in some in many cases not compensated for it... I was part of the spearheading of the new paradigm because in the Madfly days even I was like advocating artist ownership of your masters... Like, these are assets... I'm not looking for a father figure to be my manager and I'm not looking for a record label to be my mother and we just get on with it... No, you can be the pilot of all of this. You can be steering the ship of all of this and there's real consequences if you don't... The second Madly album was a distribution deal with Joan Jett's label.
Blackheart Records?
William DuVall: Yeah, with Blackheart through Mercury. I insisted that it be that and it was a beginning of a different mindset. It was the beginning of a different pathway and a different learning curve. Comes The Fall, I put out all those records myself... Now I've got this catalog I sort of manage on top of everything else new that I put out... Madfly predates the file-sharing, it predates Napster and Comes The Fall was coming into play right as that stuff was becoming a thing, Napster and all that. Then of course you've got social media soon after that And then you've got streaming after that, so it's this whole sort of wave after wave coming in to shift the entire dynamic of the business and the monetary flow of the business.
Now I'm sitting in this whole catalog and the laws have not caught up with the technology. Eventually they will. It's an interesting time and for me in particular. It's been interesting to observe all of this and to operate in the midst of all of it. But again to answer your original question, I feel really good about where I am right now because I don't think any of this would have been possible had I peaked in the early 90s or something... I think it would have been downhill from there.
We need more writers about Alice In Chains! Get started below...
Create Content and Get Paid
---
Darren Paltrowitz
Darren Paltrowitz is a New York resident with over 20 years of entertainment industry experience. He began working around the music business as a teenager, interning for the manager of his then-favorite band Superdrag. In the years following, he has worked with a wide array of artists including OK Go, They Might Be Giants, Mike Viola, Tracy Bonham, Loudness, Rachael Yamagata, and Amanda Palmer. Darren's writing has appeared in dozens of outlets including the New York Daily News, Inquisitr, The Daily Meal, The Hype Magazine, All Music Guide, Guitar World, TheStreet.com, Format Magazine, Businessweek, The Improper, Chicago Tribune, the L.A. Times, and the Jewish Journal. Darren is also the host of the "Paltrocast With Darren Paltrowitz" podcast, as co-produced with PureGrainAudio. He is also the author of two published books, including 2018's "Pocket Change: Your Happy Money" (Book Web Publishing) and 2019's "Good Advice From Professional Wrestling" (6623 Press).
See more from Darren