EXCLUSIVE: Frank Turner Discusses Music, Mental Health & More
Turner opens up in this frank discussion about mental health for WhatCulture.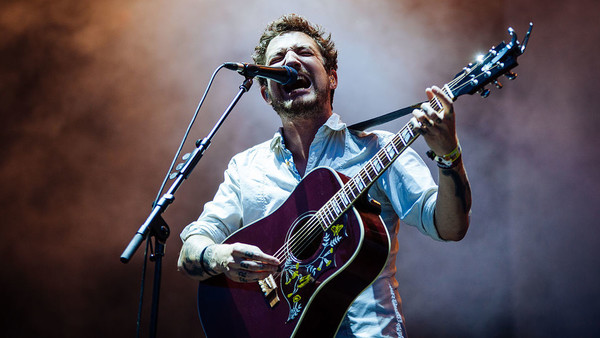 "Frank Turner" is a name that almost everyone is familiar with, at the very least just with the familiarity of his name, but usually rhyming off at least Recovery, Get Better, or Be More Kind - and the singer-songwriter is every bit the open book that his music suggests.
In fact, most of the charm of Frank Turner is that he's simply one of us. He's an ordinary guy. Except that he's not. Extraordinary? Most definitely.
The first thing I'm greeted with is the offer of a cup of tea or coffee from the man himself as I wander into his dressing room. The main difference between myself and Frank is, later that night, I'll be in the crowd, while he'll be onstage playing to myself and just shy of 2,000 others in the iconic Barrowlands Ballroom in Glasgow. But fame isn't something that's ever seemed to be of importance to the folk-punk star.
After he'd made himself a coffee, Frank told me all about life on the road, the legacy Frightened Rabbit's Scott Hutchison leaves after tragically losing his life to depression, and how Frank feels about his music helping others get through tough times.
The best thing about touring is... This is properly a more philosophical answer than you ever expected, but the thing I love most about touring is there is a daily chance to restate your case. If you have a bad show, there is tomorrow night and if you have a good show, tomorrow night, you can do it a little better. It feels like the slate gets wiped clean every morning because you're in a new place, you wake up in a new town, especially when you tour on a bus and travel overnight. You just wake up and it's, "Glasgow!" Yesterday was, "Middlesbrough!" The day before was, "York!" And there's something really redemptive about that.
As well as the best thing about touring, of course I had to ask what the worst thing was.
Frank would reveal that missing his wife is the usual answer, except - proudly wearing her band merch - this time, Turner boasts, this isn't a problem as she's one of the support acts, so missing his cat is the worst.
Of course, Frank Turner has been on the road for a long time, with the world around him changing more and more with every passing day. Having previously written a song called "Be More Kind", how important is that message now more than ever?
"The first thing I'll say is that I'm slightly wary around the idea of songwriters having "messages", do you know what I mean? I wrote the song so I'll stand by it, and I put it on an album cover and T-shirts, backdrops and all the rest, so I'm slightly talking out of my arse saying that..."
The Mongol Horde and Million Dead frontman would go on to state that the song was simply his reaction to how the world had been going, stating that the "The Matrix started glitching a lot more" in 2016, due to a couple of votes that, in his words, were pretty surprising for everybody. To that end, he wanted to bring out a nonpartisan record to bridge the divide.
"I don't actually really care how people voted on Brexit, I find it the Trump thing slightly more troubling but, nevertheless, I accept that there are people who are not terrible people who voted for Donald Trump. We have to communicate with these people, we have to, among other things, persuade them not to do it again later this year! The only way you can do that is by being sort of on a level of being human, and being considerate to them. If you shout at people you disagree with all day, every day, they will continue to disagree with you and also think you're an !*$%."
Turner reveals that he believes people who are selling their own humanity cheap are "missing a trick", because the best thing you can do is just be a decent person.
"If you argue about somebody who abandons their own decency, you've kind of won anyway if you keep hold of yours."
The man from Meonstoke reveals that particular notion is one that took him a long time to learn, and that the song isn't one he'd have written two decades ago.
When it comes to that kind of songwriting, how does Frank Turner feel about people out there who may use his music as a coping mechanism to deal with mental health struggles?
"Well, I mean, it's very flattering, shall we say? If that's the right word. I don't think of my music in that way because that would be weird and I'd probably disappear on my own arse quite quickly if I did, but there's tons of music that I listen to which serves that purpose for me, and so I understand what people are saying when they say that to me."
Not just flattering, but also a relief, Turner continues to say.
"The first person I'm talking to my songwriting as myself for the most part, and an awful lot of it is me having a word with myself in the mirror kind of thing. If that then goes on to be useful to other people, that is not only heartwarming and kind of flattering but it's kind of a relief in a funny way, because one of the whole things about mental health issues is a feeling of isolation and feeling like you're an alien; and nobody else feeling that way, so to put out a reasonably excoriating segment about your own shortcomings and have people go, "Yeah, man, I get it", that helped me certainly, and it is very powerful when people say stuff to me after shows or whatever about how songs help them. I'm very grateful for it."
Full disclaimer: I have Frank Turner lyrics tattooed on me, much like another man I previously interviewed for WhatCulture - Bowling For Soup frontman Jaret Reddick, who Turner says is "the most wonderfully self-effacing man" and someone who is "just a really sweet dude who doesn't want to impose" - before we discuss another singer-songwriter Turner was incredibly close friends with, the late Scott Hutchison of Frightened Rabbit.
I asked Frank what legacy Scott leaves behind after losing his battle with depression in 2018, and Turner firstly gave a rather objective answer that, well, makes a great deal of sense!
"I think the main legacy that Scott leaves behind, and I think everybody who is a songwriter really wants to leave behind, is the songs. I, like a lot of people, in the immediate aftermath of Scott's death, I found that there was no universe in which I was going to listen to Frightened Rabbit any time soon, that was too much, but then we actually did a thing for a long time where we had Frightened Rabbit as the walk-in music for my tours, and because I'd sort of got into a place where I could listen to it again, I put it on one night and it felt really good. It felt like his impact was still there in the room."
"That's what songwriters are trying to do. It's put their voice out there and leave something behind. I think I will keep listening to Frightened Rabbit records until the day I die and what more could any songwriter want than that? "
Turner, who was very close friends with Scott Hutchison, then delved a little deeper into the personal impact the Frightened Rabbit frontman's passing left on him.
"Beyond that, I think Scott was... One of the things that... I've got to say this carefully but one of the things that was challenging, in many ways, about Scott's passing was he had been so wonderfully vocal about his own issues on mental health, and inspirational of the level of, "Yeah, he's one of us and he's doing all right, or at the very least, able to talk about it," and then, in the end, he lost that fight. That was hard, because what had been a cause for optimism ceased to be that. That was really tough. And I think about that quite a lot. I think the main thing is his music survives and I, like a lot of people, like you were mentioning earlier, find a lot of solace in his songwriting."
Finally, I would pose the question to Frank Turner that his gigs, for me, are like nothing I've ever witnessed before, and asked him to quantify why that is!
Knowing that Frank is a man who will usually try and find an explanation for everything, I knew, "I'm the wrong person to ask" wouldn't be the end of the sentence. The Get Better vocalist discussed how, while he loved thrash music and Iron Maiden as a kid, his older sister loved Counting Crows, Levellers, Weezer, Alanis Morissette and, rather hesitantly, 4 Non Blondes.
"I still know how to play that f***ing song."
The Englishman - whose folky-punk anthems have allowed him to sell out tours with his band, The Sleeping Souls, and just when it's him and a guitar like on this tour - would then go on to discuss how his current gigs aren't a million miles away from what he did when he first started playing music in front of others at a very young age. Frank and his sisters would go on camping holidays together with their parents when they were kids. When they grew into teenagers, however, Turner confirms they would "sneak off, smoke cheap [cigs] and play Counting Crows songs."
"I wasn't learning the song so I could get everyone to shut up and sit in silence while I performed, I was learning the chords because everyone knew the words and, that way, it became a collective experience. I'm functionally bringing something to the party that enables us to do something together and that is obviously not 100% what I'm doing now but it's a big part of the philosophy, the ideology behind it."
Turner then ingeniously transforms his entire story into one simple sentence.
"All of this is a really long-winded way of saying I really like a singalong."
So, what makes a Frank Turner gig so special? Of course, it's not a million miles away from most other gigs. At base level, you have a musician and a crowd, but it may just be that the person singing the songs is playing to have a singalong! It's simplistic messages - sorry, Frank - beautifully blended with catchy music in a way that just brings everyone together. It's unity, and it's people singing at the top of their lungs, and the person singing into the microphone isn't exactly having a bad time either...
"There is nothing that fills me with more joy than to play some chords and have a room full of people singing. That is amazing and it feels extra amazing if I occasionally stop and remember that I wrote this song but I genuinely don't think about that part that much and, when I'm playing, it's like, 'Hey, we all know this one, let's do this one,' and that's just a good feeling."
We need more writers about Frank Turner! Get started below...
Create Content and Get Paid
---
Gary Cassidy
Gary Cassidy is a freelance journalist who has interviewed Triple H, Stephanie McMahon, Chris Jericho, Paige, Charlotte Flair, Kurt Angle, William Regal, Rey Mysterio, Sheamus, Tyson Fury, Cody Rhodes, Dustin Rhodes, Frank Turner, Andy Black, Jaret Reddick, and many others. Gary also creates video content for BBC, writes for Sportskeeda Wrestling, and regularly features on the Wrestling Daft podcast, as well as recently appearing a guest on TalkSPORT's talkWRESTLING show. His work has been sourced by FOX, CNN, NBC, MSN, Yahoo, People, Bleacher Report, Cultaholic, and others - with one article featuring in an official trailer for WWE's Total Divas on E!
See more from Gary