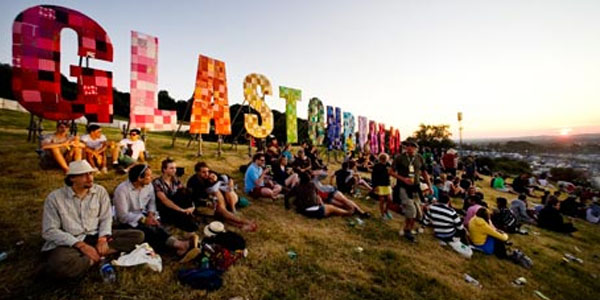 It€™s hard to explain the emotions and atmosphere that a good band at a festival like this can generate, one thing if for sure that no amount of BBC coverage could sum it up. With over 53 stages that covers rock, pop, dance to circus acts, comedians and poetry readings it€™s impossible to write about all of them but here are some highlights from the main stages Liam Gallagher€™s
Beady Ey
e kick of proceeding to a packed field but nothing gets as much applause as the Oasis tracks.
Haim
open the main stage but diabetes nearly gets the better of Este, illness aside they are cheery enough to deserve a better slot next year. Anyone who didn€™t catch the sisters on this stage will have multiple chance to see them as they perform on nearly every venue on the site.
Jake Bugg
fails to ignite the Pyramid stage with his Northern light rock but this mainly due to a lack of personality on show. The same can€™t be said about
The Hives
who create a surprisingly big morning singalong before Pelle Almqvist goes into a comedic rant about the lack of ladders.
Amanda Palmer€™s
cabaret songs of abortion and rape confuse many people while Enter
Shikari€™s
power to the people rock creates one of the few mosh pits of the weekend.
Miles Kane
is the first big crowd of the John Peel stage as the union jack clad singer is joined by Alex Turner, it is the highlight of his set as the rest without Turner feels cold. Frightened Rabbit are a fantastically talented Scottish band with a big cult following, their Americana tinged rock is solid and makes you wonder why they aren€™t everywhere.
Bastille
, who are very much flavour of the moment, are a solid live band, sounding ten times better live than on record. Every song on their Bad Blood album sounds like it could be a hit, including a unique cover of 'Rhythm Of The Night'.
The Lumineers
are a band you expect to excel in this environment yet their short songs underwhelm, just as you got into a track it was over. There is a nice moment when they take their set into the crowd but overall it€™s a disappointing moment on The Other Stage.
The Foals
are treated like heroes and you can see the look of admiration and surprise the band has at this treatment. €˜Balloons€™ and €˜Cassius€™ leave a slight hole in an overall solid and bouncy Glasto set. Yannis Philipakis does have to be saved from a savage crowd surf but the look of sheer terror that takes over is quite comical.
Rita Ora
fills in the Friday afternoon pop slot while doing her best Beyonce impersonation. She has a good voice and knows how to put on a good show but the backing vocals and half-assed dance routines seems to be out of place.
The Vaccines,
while more fitting to the modern Glastonbury crowd, just don€™t connect and their hour set seems to drag on with their similar sounding songs getting repetitive.
Iggy Azalea€™
s brand of commercial rap is still in its teething stage, as she takes a surprisingly low down slot on the Sonic stage, but her borderline burlesque performance is captivating.
Portishead
is a perfectly haunting way to close the Other Stage on the first day. Nearly 20 years since their debut album Beth and her boys are still going strong and sounding good. There€™s no need for costumes and fireworks here as her voice is as magical as ever.
Seasick Steve
surprises everyone on the West Holt€™s stage with his earnest roots sound and his likeable stories, becoming a much talked about moment. The headliners
Chic ft. Nile Rogers
play an energetic set of songs they had wrote (including hits by Diana Ross and David Bowie) while at times random it does sound fresh considering it€™s the rebirth of disco. Beyonce€™s baby sister
Solange Knowles
makes her debut on Park Stage, her mix of afro beats and soul leave you feeling cold and underwhelmed but her energetic performance sells it well. Star of Searching For Sugarman
Rodriguez i
s a little shaky but that€™s half of his charm.
Palma Violets
start their set with a bizarre diss at schedule Tame Impala, possible in hope of becoming a NME favourite, as they start of an afternoon of uncharismatic indie rock. They are followed by
Django Django
who bring very little else to the table.
Dizzee Rascal€™s
set feels like you have crashed someone else€™s stag do, even the biggest urban music hater would have trouble not raising a smile to his tongue and cheek style. A plethora of up and coming artists pop out to cameo but the anticipated Robbie Williams appearance for his new single €˜Goin Crazy€™ never happens. Rascal himself is one of the most engaging live performers whether you agree or disagree at the merits of urban artists as Glastonbury.
The
Arctic Monkey
are all mystery and coolness with the lack of screens and chit chat but generally come across as pretentious and dislikeable. The classics go down well but we had just witnessed the entire pyramid crowd have a sing along to the sound system between acts so it€™s not a difficult feat. There is a nice moment as the crowd sings happy birthday to Alex€™s mum (also witnessed at Reading last year during Foo Fighter€™s set) and a not so surprising appearance by Miles Kane. As good as Turner and Co are as songwriter their headline set comes across hollow and soulless.