Ranking Every Opeth Studio Album From Worst To Best
Our ranking, your response, with plenty of fair judgements along the way.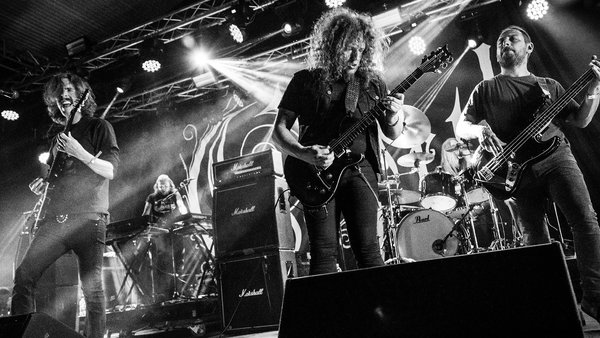 Ever since the release of their debut LP, 1995's Orchid, Swedish quintet Opeth have reigned as arguably the best at what they do.
Be it their first few melodic death/black metal collections; their mid-period progressive/folk metal gems; or their more recent treks into 1970s prog rock/jazz fusion bizarreness and grandeur, mastermind Mikael Åkerfeldt and company consistently excel at blending characteristically remarkable songwriting with equally distinguished and malleable instrumentation.
Along the way, they continuously infused a huge array of influences – from metal icons like Celtic Frost, Morbid Angel, and Iron Maiden to lighter fare like Jethro Tull, Camel, Nick Drake, and Joni Mitchell – into their irresistible concoctions. Beyond keeping their music adventurous and intriguing, this risky proclivity for boundless diversity blew the doors wide open for how multifaceted metal could be in a general sense.
Of course, such a polygonal and significant career results in a catalog that's immensely difficult to judge. Nevertheless, the following tally – which considers overt quality, personal preference, and originality/evolution in equal measure – offers our strongest attempt. Ranging from very good to flat-out masterpieces, these are Opeth's 13 studio albums ranked worst to best.
13. Orchid (1995)
The goal of any artist is to perpetually equal, if not outdo, their prior work, so saying that Opeth's first album is also their worst is more of a compliment to the group than a knock against the LP.
After all, the band improved in every way afterward, but that doesn't mean that Orchid is rendered unlistenable or irrelevant in hindsight. On the contrary, its innovative and poised venture into the worlds of black, thrash, and death metal – with sprinkles of folk, jazz, and classical throughout – remains quite praiseworthy and pleasing.
For one thing, songs like Under the Weeping Moon and Forest of October successfully incorporate the DNA of stylistic kings like Metallica, Mercyful Fate, and Slayer in Opeth's distinctly intricate structures. Elsewhere, opener In Mist She Was Standing and Requiem throw in some now-trademark acoustic guitar arpeggios and jazzily warm respites, while Silhouette is an atypical piano instrumental full of classical importance and dexterity.
Most importantly, the album sees Åkerfeldt already displaying extraordinary range as both a hellish screamer and heavenly singer. Thus, Orchid lingers as a prophetic and enjoyable starting point that can't help but be immediately outshone.