Red Hot Chili Peppers: Ranking Their Albums From Worst To Best
Over 80 million records sold around the world and a catalogue of chart-topping hits don't lie.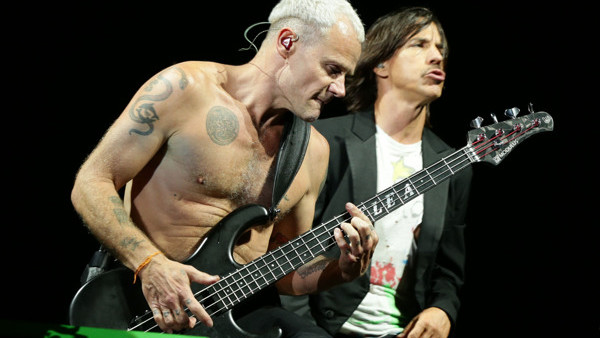 Over 80 million records sold around the world and a catalogue of chart-topping hits don't lie. Since forming in Los Angeles in 1983, the Red Hot Chili Peppers have battled through band-departures, deaths, and a lot of drugs to become - universally speaking - one of the most enduringly popular acts in rock music. The news earlier this month that they will be playing this year's Super Bowl halftime show places them alongside musical heavyweights such as The Who, Bruce Springsteen and, um, the Black Eyed Peas.
Not too shabby for a bunch of good-time boys that began life as Tony Flow And The Majestic Masters Of Mayhem almost 31 years ago. The warped funk-metal sound of their early albums was certainly an acquired taste, but the chaotic fun of these records was undeniably infectious and saw them build a cult following. The loss of founding guitarist Hillel Slovak to a heroin overdose could have easily led vocalist Anthony Kiedis and bassist Flea to end the band, yet they persevered and began transcending upon mainstream success. The introduction of new guitarist John Frusciante and drummer Chad Smith added fire to the group and a blossoming creative relationship with producer Rick Rubin launched RHCP to bonafide superstardom. Perhaps the most remarkable thing about The Chilis is they have always felt like a separate entity to the rest of their contemporaries.
Out in LA, a rock climate dominated by Motley Crüe and Quiet Riot hair metal; the Peppers were hanging out with funk icon George Clinton and playing Sly Stone covers. Even when they reached higher ground with 1991's Blood Sugar Sex Magik, they still seemed distant from the alternative rock scene featuring Pearl Jam, Smashing Pumpkins and Nirvana - even though all three of these bands had opened for them on the BSSM tour. Grunge, nu-metal... crunkcore (I think that's a thing... never mind) you name it, the funky monks have ignored changing musical fads in favour of following their own vision across their whole career. So with that said, time to buckle down and begin this ranking of their ten studio albums from worst to the best.