Volbeat Rewind, Replay, Rebound Live In Newcastle Review
Danish rockers bring charm and a huge, clean sound to Tyneside.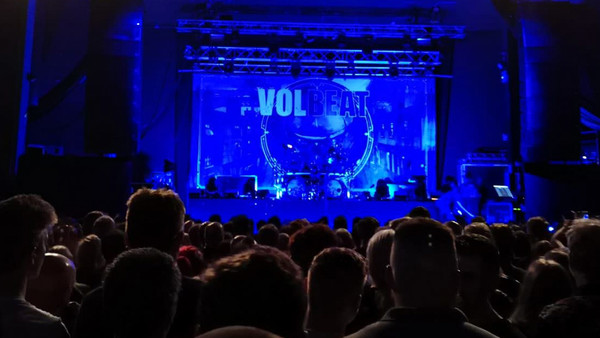 Gig Rating: 4.5/5
To paraphrase one of the attendees at Newcastle's Academy in the wake of a tub-thumping show last night, "Volbeat are f*cking mint."

Having mostly stayed away from British shores other than for always excellent festival appearances, the Danish group with a thousand influences kicked off their Rewind, Replay, Rebound tour in some style on Tyneside.
Considering how many people sleep on this band for no good reason, ticket sales were evidently strong, given how packed it was and a crowd ranging massively in age (though somewhat more towards the seasoned end of the spectrum) amassed to watch an all-too-rare live show by one of the most gifted of the century so far.
Ably supported both by Danko Jones and sludge metallers Baroness (who were rather unfortunately let down by the venue's notoriously iffy occasional sound issues), the foursome unassumedly took their places on stage to the sounds of Motorhead's "Born To Raise Hell" and then Nick Cave's "Red Right Hand" - a sign of eclectic things to come and proceeded to fulfil every fans expectations.
Even with lead singer Michael Poulsen expressing some regretful throat problems (they affected him noticeably from an audience viewpoint only once and far from fatally), their set was assured, polished and set up for maximum audience enjoyment. The three mic set-up that saw Poulsen, former Anthrax guitarist Rob Caggiano and bassist Kaspar Boye Larsen regularly swapping pitches so the audience got equal portions of them all was a great little touch.
There were some blips, like one false start (but you forgive it when it's instrument related) and some fine tuning was obviously going on live, but this was a tour opener and it was remarkably well put together for that. But then, Volbeat are a confident, accomplished band who know exactly how to do this. Imagine the incredible nerve it takes any band to launch into a song as big and popular as Lola Montez as their second song and you have some insight into their understanding of crowd manipulation too.
It was, inevitably, a shame they didn't put in their cover of "I Only Wanna Be With You" (even just as an exit song for the crowd), but this was a chance to wade into new waters - both with the live debuts of some new album tracks and also in terms of this being their first time in Newcastle and it's to be expected that we don't get everything we want.
What we did get, and what everyone who sees the band on this tour will also get, was a heady blend of rock-a-billy, country (including a musical cameo by a certain Man In Black), balls-out thrash metal and a gleeful reluctance to stick to the direction you'd expect their songs to go in next. Melody makes way to roaring guitars back to melody back to the kind of immediately recognisably, rousing vocals that really spread a grin across your face. To manage to get an auditorium sound out of a sad old Academy like this, Michael Poulsen might well be a magician.
Seriously, Volbeat are an exceptional live band and you ought to take chances like this when they come along. Go and see them on the rest of this tour.
Set List
1. Cheapside Sloggers
2. Lola Montez
3. Sad Man's Tongue
4. When We Were Kids (Live Premiere)
5.Black Rose (with Danko Jones)
6. Let It Burn Die to Live (Live Premiere)
7. Doc Holliday
8. The Devil's Bleeding Crown
9. Sorry Sack of Bones (Live Premiere)
10. Fallen Slaytan
11. Dead but Rising
12. Pelvis on Fire
13. Leviathan
14. Hallelujah Goat
Encore:
1. Last Day Under the Sun
2. Seal the Deal
3. Still Counting
Create Content and Get Paid
---