10 Awesome Playgrounds That Will Make You Want To Be A Kid Again
You're probably over the height limit, but why not try?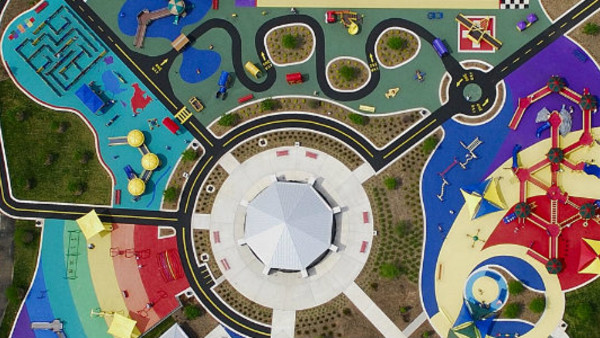 With obesity on the rise, public playgrounds and parks can provide an opportunity for children to develop healthy habits, like keeping active and getting outdoors. Children that establish healthy habits in their youth, and maintain a normal weight, are less likely to suffer from sleep apnoea, social and psychological problems or arthritis. This also means they're more likely to get a date to prom.
Playgrounds aren't just for keeping active, though. They also develop children's coordination, problem solving abilities and improve social interactions. Cooperative play that occurs on a playground can help limit bullying and reinforce positive interactions between children. This benefits children and paves the way for problem solving and conflict resolution skills. And we all know those skills are seriously lacking in his world.
Designers are taking the joy of childhood to a new level and embracing the limitless imagination of children in their playground creations. From wild climbing structures to crazy animal statues made from reclaimed items, these parks are changing the face of play space architecture into something that is beneficial, fun and artistic.
Admit it, you'd love to go romp about and these playgrounds are way cooler than what you had as a child. So let's go play. Just make sure to leave Frank behind.
10. Brumleby Playground - Copenhagen, Denmark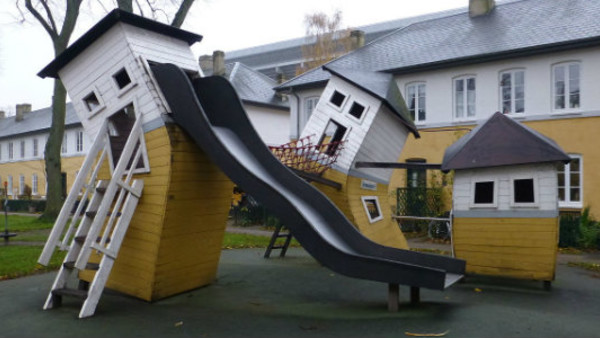 The Brumleby neighbourhood was developed in the late 1800s in Copenhagen as one of the earliest forms of low income housing in Denmark. The area was renovated and awarded the Europa Nostra Award in recognition of the neighbourhood's efforts. MONSTRUM, quite possibly the world's best playground designers, were commissioned to build a playground in the area. They looked to the surrounding homes as inspiration and constructed a topsy-turvy version of the adjacent architecture.
The playground sports three houses, a baker's shop and ice cream stand. Climbing walls, see-saws and a suspension bridge add to the exciting play space. There's also a "floor-is-lava" snake, and, the surface around the houses is cast rubber for safety; so all of those knee scrapes that sent you to kicking and screaming to peroxide washes won't be an issue.
This attention to detail probably explains why Denmark's capital city is one of the happiest on Earth.