10 Comedy Podcasts You Need To Listen To Right Now
Essential audio direct to your device.
Everybody's got a podcast now.
Once a cult-like phenomenon, the digital medium has experienced exponential growth in the past decade, exploding into the mainstream as the aural equivalent of On-Demand television, with the power given back to consumers to engage with their favourite content as and when they wish.
Far from over-saturation though, the vast archives available for free (or extremely cheap) on just about every internet-enabled device has instead flooded the market with the welcome dilemma of choice.
Without podcasts forced upon you in the way films and television vehicles traditionally are, it becomes down to the individual to track down the things they want to hear from the catalogues of content on every imaginable genre.
And like every other category, there exists an inordinate number of hilarious shows taking up space in the iTunes charts. But just like comedy as an artform itself, not all of the chart-toppers necessarily represent the funniest or highest quality shows.
Saving you hours of searching, here are the 10 Comedy Podcasts You Need To Listen To Right Now.
10. Go Bayside!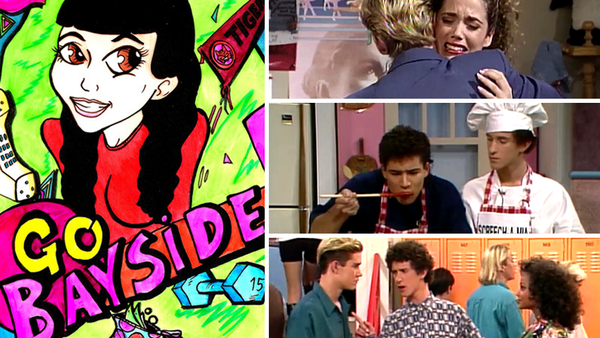 An acerbic take on a late-80s/early-90s institution, Go Bayside! hears comedian and writer April Richardson embark on a lengthy journey through every single episode of the seminal teen comedy 'Saved By The Bell'.
Critiquing every episode from her own apartment sofa alongside a raft of different guests ranging from comedian colleagues, industry insiders and even her own ex-husband, Richardson confirms the nostalgic trip as a true labour of love, but doesn't compromise on questioning the plot holes, impossibly unrealistic stories and questionable acting choices that permeate the former NBC smash.
Identifying her personal relationship with the show, Richardson highlights how it provided a televisual safe-haven in her younger days as a latchkey kid, but equally presented an insane vision into a fictional high school world she couldn't possibly comprehend.
Meshing her childhood posits with the rational adult analysis she shares with her weekly guest host, the podcast takes hysterical but affectionate aim at the iconic show, with reviews covering every single episode from the original run as well as the feature-length movie 'Saved By The Bell: Hawaiian Style'.