10 Things We Learned From Miley Cyrus On The Joe Rogan Experience
Rogan has now officially landed on Spotify and his first guest came in like a wrecking ball.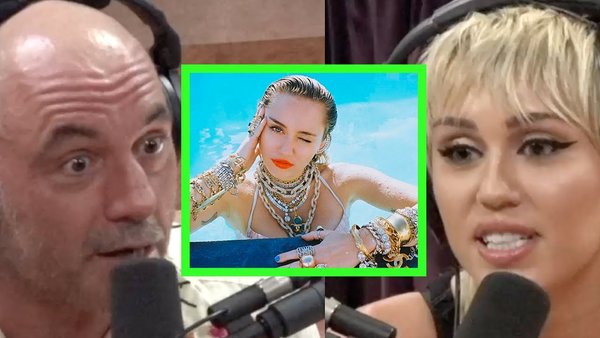 The dawn of a new era is now finally upon us.
On September 1, Joe Rogan's multi million dollar move over to Spotify officially began as most of the Joe Rogan Experience catalogue was made available and the comedian released his first new show on the streaming service this week. That being said, the podcast will only become exclusive to Spotify later in the year.
So, which guest did Rogan bring into the studio to mark this beginning of the next chapter in the JRE's existence?
Kicking life on Spotify off with a bang, singer-songwriter, actress and record producer Miley Cyrus was welcomed into the studio and it's fair to say she was in a rather talkative mood.
Clearly at ease in the typical laid back long form interview style the podcast is known for, the child superstar opened up about what life was like for her growing up in the public eye, previously unknown serious injuries and why she had to give up the life of a vegan, among many other things.
It's been a wild old ride so far for the former Hannah Montana, but at 27 years-old Cyrus seems to be in a pretty good place and her appearance certainly shed some light on a few things we didn't previosuly know about the uber-famous wrecking ball artist.
10. Miley Wants To Write An Honest Children's Book
Early on in the podcast, Miley spoke about how much she experimented with drugs in her early years and learned how to balance how much she could do whilst still being able to do her job. She mentioned thinking at the time, 'How much weed can I actually smoke and still play a teenage superstar on the Disney Channel?' Joe then asked her to reveal exactly how much that was, to which the child star replied, 'More than you would f*cking think!'
Despite now being sober, Miley does still feel that people should experiment when they're growing up, but that point soon led to Rogan suggesting that we need to teach youngsters how to safely experiment.
Weirdly enough, Miley then admitted to having an idea earlier in the week about potentially creating her own children's book series of 'realistic children's stories' in an attempt to teach kids early on that they aren't living in a 'sunshine world'. Far from being all doom and gloom, Miley then added that the book would nudge kids into asking themselves what they can do to better the world they're living in?
Though Miley also confessed that introducing the world of drugs and drinking to kids at a young age was quite a controversial idea, stranger things have happened. We may yet see Cyrus add 'acclaimed hard-hitting children's book author' to her list of many accolades in the future.