12 Historical "Facts" That Simply Aren't True
10. George Washington Did Not Have Wooden Dentures ... Although He Did Have False Donkey Teeth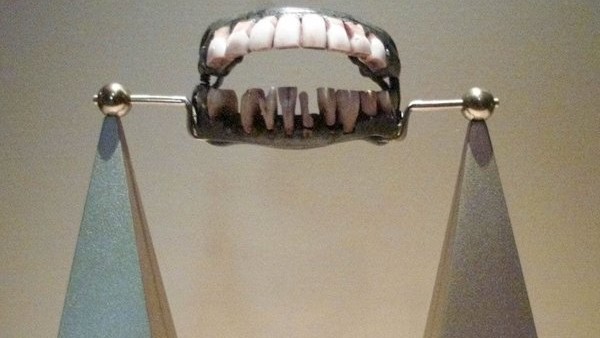 According to historical "fact", the very-first President of the United States and the Commander-in-Chief of the Continental Army during the American Revolutionary War, George Washington, had an appalling record with his teeth and so had wooden dentures inserted. The first part of this is true, but Washington did not have wooden teeth. He did, however, have at least four other sets of false teeth throughout his life - made from a variety of bizarre materials.
Having lost his first adult tooth at the age of 22, Washington had just one left by the time he became President in April 1789. It is believed that the use of mercury oxide to treat such illnesses as malaria and smallpox contributed to this rapid loss of teeth. With his dentist John Greenwood constructing the majority of Washington's dentures, the first set of false teeth the latter used as President were carved from elephant and hippopotamus ivory and they were held together using gold springs.
Worryingly, before this Washington had a set made using real human teeth, supposedly purchased from African-American slaves. Other sets were made from such materials at donkey teeth, horse teeth, ivory and lead - with the one pictured above believed to have been constructed from a combination of both cow and human teeth. Lovely...
Chris Waugh
NUFC editor for WhatCulture.com/NUFC. History graduate (University of Edinburgh) and NCTJ-trained journalist. I love sports, hopelessly following Newcastle United and Newcastle Falcons. My pastimes include watching and attending sports matches religiously, reading spy books and sampling ales.
See more from Chris