12 Music Acts To See At Edinburgh's Fringe Festival
There's lots to do in Scotland's capital this August...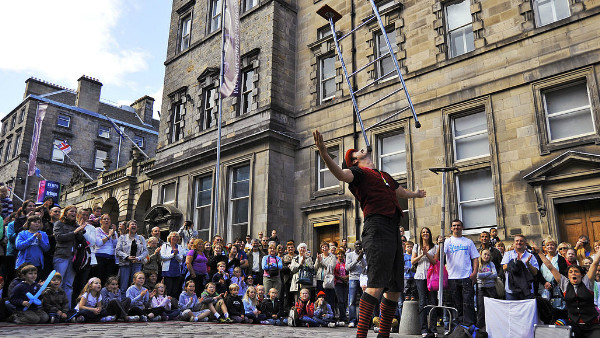 The Edinburgh Fringe Festival celebrates 70 years of music, comedy and street performance in 2017, and as always there's a bursting program of things to see and do in Scotland's capital between August 4-28.
When you've had your fill of watching the often weird and wonderful performers adorning the Royal Mile, then some live music may just be the ticket. The Fringe has you covered this year, boasting everything from an array of tribute acts to some exciting and unique gigs that go heavy on audience participation.
Throughout the Ed Fringe, bands such as Ben Caplan And The Casual Smokers and the wonderfully-titled Ukulele Death Squad will brighten up your day, and the same can be said of energetic folk ensemble Blazin' Fiddles.
If paying tribute to the greats is more your thing, then why not check out Cash Back (paying homage to the legendary Johnny Cash), dance along with ABBA A-rival and The Katet Plays Stevie Wonder, or revel in the glory of MacFloyd. Yes, that's one of Scotland's finest Pink Floyd tributes.
Elsewhere, Eva Cassidy: The Story tells the tale of love and tragedy in equal measures by celebrating Eva's life, and The Polis (another Scottish colloquialism) play an array of hits from Sting and The Police.
As if that wasn't enough, Nick Harper's combination of folk and blues will leave you breathless, and there's even something for Jimi Hendrix fans by way of Hendrix And Me, allowing you to bask in the glory of the iconic bluesman.
Finally, Drum Tribe provides the most interactive experience of the festival. Everyone who attends is handed an African drum and encouraged to play along, learn about rhythm and celebrate music.
For full listings, tickets and further information on all of these artists and much more, please visit http://www.expedia.co.uk/vc/c/edinburgh-festivals
We need more writers about Edinburgh Fringe! Get started below...
Create Content and Get Paid
---
FestivalFindr
FestivalFindr is the new offering from travel experts, Expedia. Get the inside scoop on the biggest festivals taking place in the amazing city of Edinburgh and plan your visit to perfection.
See more from FestivalFindr