10 Footballers You Totally Forgot Played For England
Remember when Joey Barton took on Xavi and Iniesta? Us neither.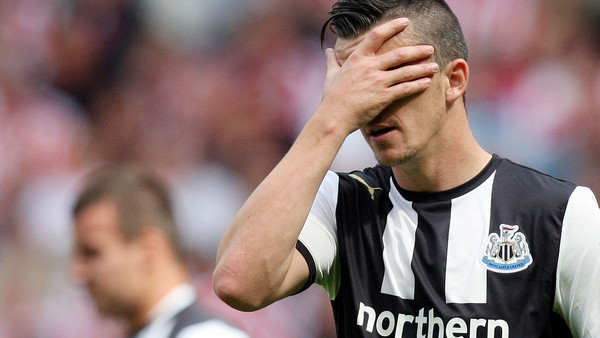 Representing your country should be the highest accolade of an athlete's career. Not everyone can have a dream run with the national side, however. Some go on to be seen as legends - others have a debut to forget and are never seen again.
But what about the ones that make you wonder if they ever even happened?
There are many reasons why an unexpected player might end up in his national manager's bagging area. Injury crises, a sudden run of impressive form, or simply servicing a specific tactic needed that day are all reasonable examples. When those footballers actually run out on to the pitch, though, the results are unfortunately often underwhelming.
England football focuses mainly on the World Cup win of 1966 and the two semi-finals of 1990 and 1996. Everything else has pretty much been a disappointment. Every now and again England fans have had their disbelief shattered by a deceptive Beckham free-kicks, a flash of Gascoigne skill or a Charlton belter but for each seductive moment of hope there are many more of unimpressive draws, rainy away losses, and pointless friendlies.
Let's take a look at ten players who represent the latter moments...
10. Lee Bowyer
Battling performances for David O'Leary's Leeds United during the turn of the century made Lee Bowyer a conspicuous presence each week on Match of the Day. Sven-Goran Eriksson must have caught an episode in a hotel bar one night because he picked the combative midfielder for a friendly at Villa Park against Portugal in September 2002.
A fairly uninspiring draw ensued with Bowyer being replaced by Trevor Sinclair in the 62nd minute. He was notable for setting up England's only goal in the encounter, however. Charging down the right wing with arms flailing, Bowyer picked up the ball from Michael Owen before swinging a cross into the box which Alan Smith hit home with a bullet header.
Bowyer wouldn't be picked again with Eriksson taking his more established midfielders to Euro 2004 instead. His private life was an obstructive distraction from his international career as he missed out on earlier caps due to an assault case against him. The ugly, long-running trial besmirched his chances for more caps and this appearance would remain his only outing for his country.