10 Heaviest Hitters In The UFC Heavyweight Division Today
Step into the octagon with these foes, and there's a good chance you're going to sleep.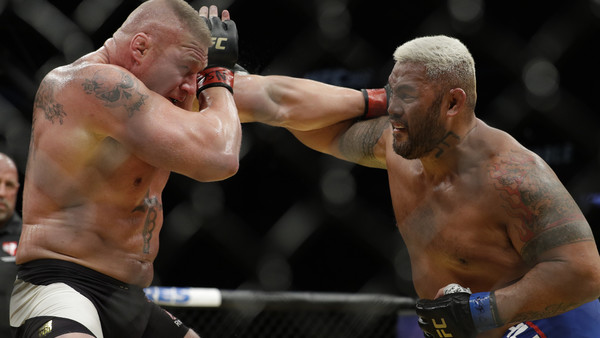 The modern UFC is a celebration of martial arts, with the bulk of its athletes proficient at multiple disciplines. It took a while, but the sport has finally come to embody its actual name: mixed martial arts. Today's fighters are true martial artists, with an understanding of striking, be it kickboxing, boxing, Muay Thai, and so on, and the ground game — wrestling and jiu-jitsu, for example.
Yet there's one division where all you really need is hands of steel: heavyweight. While the lower weight classes have become more and more of a chess match when the best meet the best, the heavyweights, more often than not, will still put each other to sleep. Viciously.
That's exactly why UFC and MMA fans in general love watching the big men go to work. One punch, well timed and well placed, can change the course of a fight in an instant. One punch can get the crowd on its feet, roaring. One punch can see a title change hands (we're looking at you, Junior Dos Santos vs. Cain Velasquez).
So who are the hardest hitters in the UFC today? We'll take a look at ten of the very best big men when it comes to crushing their opponent's dreams — and skulls.
10. Todd Duffee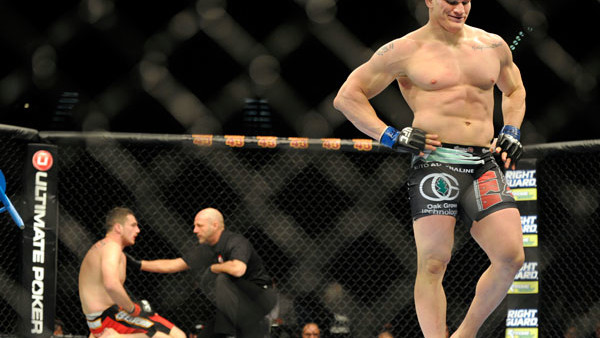 Todd Duffee might be higher up this list were it not for one simple problem: he has, for years, struggled with health issues.
A promising young prospect back in 2009, he was cut from the promotion after just two fights after posting a 1-1 record. While the reason for his release was never made public, rumors swirled that the rookie had something of an attitude problem.
After losing to Alistair Overeem in Japan then beating Neil Grove, he was brought back, going 2-1 in his return. Duffee boasts a modest 9-3 record, but all nine of those fights have been finishes, all via KO/TKO. That includes a 7 second KO of the late Tim Hague in Duffee's first UFC run, and a 33 second KO of Anthony Hamilton in his second.
Duffee was showing great promise in his UFC career once again, but struggles with Parsonage–Turner syndrome appear to have put his it on hold, at least for the time being.
With those heavy hands and an overall UFC record of 3-2, Duffee should be at the height of his professional fighting career. With luck, he can overcome the health hurdles and get back to doing what he does best: putting people to sleep!