4 Villains (And 6 Heroes) From Newcastle 0-1 Arsenal
There was only one villain at St James' Park and it wasn't any of the players...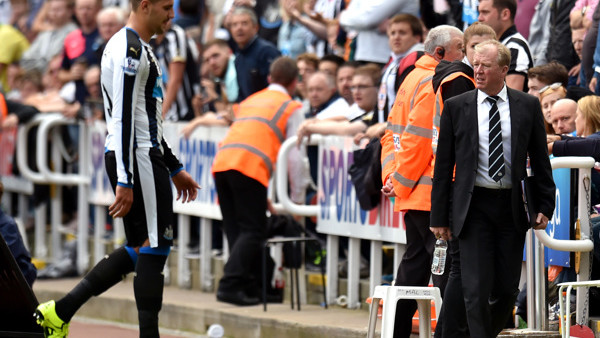 It's always hard to analysis a team's performance when they're forced to play with ten men for 75 minutes but the overall reflection on Newcastle's 1-0 defeat at the hands of Arsenal has remained largely positive. Steve McClaren praised the attitude and workmanship of his side during his post-game comments yet his subtle frustrations lingered on the end of every biting syllable as the Magpies' boss reflected on Aleksandar Mitrovic's early dismissal and another Premier League defeat. Despite the excellent atmosphere inside St James' Park the overall game was underwhelming and aside from the gutsy endeavour and occasional late-tackle from Newcastle, there wasn't really anything to cheer about. Andre Marriner's shambolic refereeing display prompted plenty of negative noise from the home support and although his decision to send off Mitrovic seemed just about fair his trigger-happy card display from start to finish was embarrassing. Another valiant performance from the Magpies who made Arsene Wenger's side look relatively average and even with ten men looked like they could possibly snatch a point from the game. Newcastle played intelligent, well-disciplined and possession-based football but have now not scored in their last three Premier League games. Perhaps more worrying is that their new boss (despite going down the tunnel to appreciative applause) is yet to record his first league win of the season. I have selected six heroes and four villains from an NUFC perspective...