7 Players Worthy Of Breaking Newcastle's Transfer Record
One already looks really good in black and white...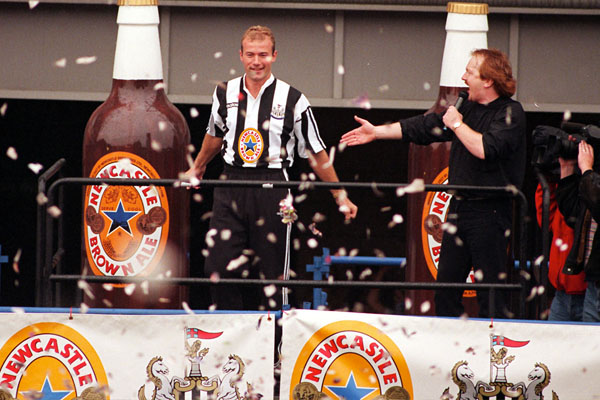 Paul Barker/PA Archive/Press Association ImagesNothing quite beats the euphoria of welcoming a new big name to your football club. The excitement of the unveiling is only matched by a successful debut, where the new hero scores the winner, picks the decisive pass or saves a penalty. The buzz around any new arrival is mainly, though not exclusively, related to the price. Like anything, the more you pay, the better you get. Usually, anyway... Newcastle United is a club with a rich history big name signings. Not all have worked, and some people should remember the Luque's, Boumsong's and Marcelino's of this world before demanding money be spent. That said, Newcastle's recent transfer activity has been incredibly frustrating, with the days of big money arrivals merely a distant memory. However. from 1992 until 2007, under the guidance ofd Freddy Shepherd (yes, pun intended), Freddie Fletcher and Sir John Hall, the cash flowed. From Shearer to Ginola, Asprilla to Robert, the hierarchy were not afraid to open the chequebook, even when frankly, at times, they couldn't afford to. Who can forget the scenes at St James' Park when Alan Shearer returned for a then WORLD RECORD fee of £15 million in 1996? It was something special, that could only be recreated one way. Nine years later, they were at it again. With Shearer now entering his final year before retirement, the board sensed they needed to do something big, and they delivered. England international and genuinely world class striker Michael Owen arrived on Tyneside from Real Madrid for £17 million, breaking Shearer's record. Those scenes were recreated, fans turned out in their thousands to welcome the man they thought would lead them to glory, just as they had done all those years ago. Unfortunately, however injuries, but also Owen's conduct when the club needed him most, and problems paying the money, meant that the former Liverpool striker is more Marcelino than Shearer when remembered by Newcastle fans. The club was sold to Mike Ashley in 2007 who, despite his obvious and understandable unpopularity amongst the Geordie faithful, has helped make the club financially sound after years of uncertainty, he must be credited with that. However, with the debts went the tendancy to spend big, and over the past seven years, signings have tended to be cheaper and more shrewdly planned out, which has meant they are much less frequent too. After much publicised problens on the pitch in the seconf half of last season after the sale of Yohan Cabaye in January, a big name signing of old would certainly not go amiss, especially with the shrewdness of some of the latest acquisitions. It seems a long way off, though. Anyway, referencing "transfermarkt.co.uk" valuations, here are seven big name players who could be in Newcastle's sights if, in a magical parallel universe, they decided to make a statement and break the transfer record...