9 Things Chelsea Fans Need To Know About Diego Costa
From headbutts and street football to goals and duel-nationality.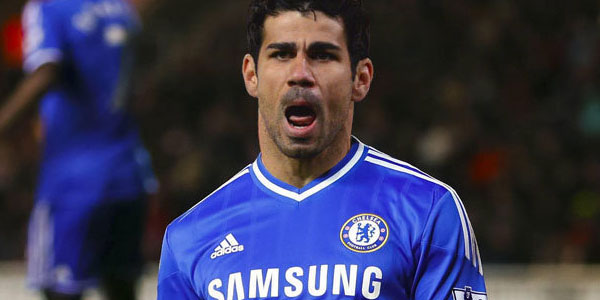 Earlier this week, Chelsea finally announced the £32 million signing of Atletico Madrid striker Diego Costa. Costa arrives on a five-year deal worth a reported £150,000-a-week and becomes the London club€™s third major signing of the summer, following Cesc Fabregas and Mario Pasalic. Blues boss Jose Mourinho had been looking for a €œkiller striker€ this summer after watching his strike force of Fernando Torres, Samuel Eto€™o and Demba Ba struggle last season, and Costa looks as though he fits that criterion having netted 36 goals in 52 games in 2013-14. Costa said he was €œvery happy€ to join Chelsea and that he was excited about getting his playing career up and running in England following his four-year spell in the Spanish capital with Atletico. And as we prepare to acquaint ourselves with the Brazilian forward, how much do we know of Costa so far? Aside from being a prolific goalscorer, earning rave reviews on the pitch, he€™s also courted controversy off it by switching his nationality and being embroiled in a series of disciplinary set-backs. To find out more, including which Barcelona legend he matched in last season€™s goal-scoring charts, read on as we take you through 9 things you need to know about Diego Costa.