Man Utd Transfers: Should Van Gaal Really Axe Flop Fellaini?
Rumours abound that the lanky Belgian is off out the back door to Italy, but is it right for the club?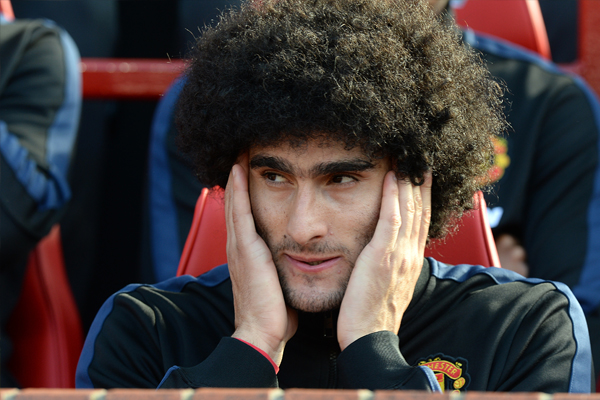 When David Moyes took over at Old Trafford last summer, it seemed inevitable that he would bring both Marouane Fellaini and Leighton Baines with him to Manchester, given their importance to his side at Everton, but after protracted negotiations, and un-negotiated stumbling blocks, the Red Devils eded up with the Belgian midfielder alone. Even then, he was something of a coup, though his price tag was wildly over the top, and his recent form had been less than imperious for the Merseyside club, but surely he was the ideal solution for United's ageing, holey midfield and would make the step back up to his best form given a project as big as joining the then champions of England...? Sometimes even the smartest football pundits get things wrong, and a year after joining United, Fellaini feels like the forgotten man at the club; as Louis Van Gaal continues to look for reinforcements, nobody seems to even be mentioning his name as the available options to build on. He's gone very quickly from a man who was identified as a potential jewel in the crown for a club who stuttered and failed badly in the transfer market for most of last year, to being a walking cast-off, rather cruelly blamed for the worst of Moyes' catastrophic tenure at the club. Now it looks like
Fellaini will be joining Napoli on loan
, after super secret talks that inevitably made it immediately into the papers, as secret things in the world of football invariably do, with United clearly willing to take a bit of a bath on the gigantic transfer fee they paid for him, probably in the hope that he recaptures his form in Italy and can command a reasonable fee in a year's time. But is Van Gaal being too hasty in his dismissal of the Belgian? Could there not be life yet in his United career, especially with greater players, stronger discipline and a training schedule that has already weeded out £30m man Luke Shaw as not fit enough for the Premier League (props to the medical team at United for checking that one out before he signed)? On past form (other than the past 18 months or so) the answer should really be yes, as Fellaini is a supremely talented player on his day, but you get the feeling that Fellaini is destined to join the pile of rejected United players who couldn't hope to survive a horrid first season. So perhaps a loan is the right thing - and a sale at a later date - for the player's sake, but you have to feel some sympathy that he's now going to be spoken of in the same breath as fellow failure Bebe.