Newcastle: Don't Forget, Ben Arfa Was Perfect For 4-3-3
The scapegoat would have been mighty useful right about now.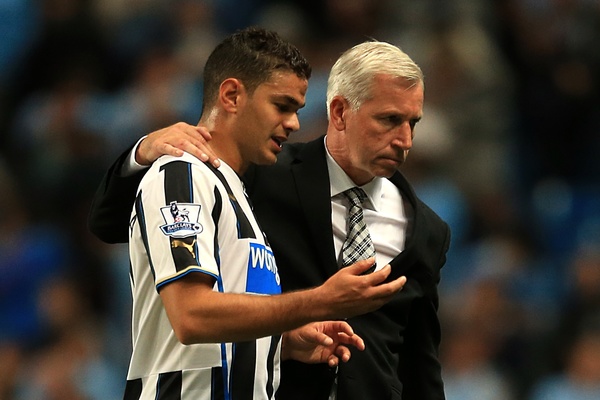 It's funny how wins change things. A couple of months ago, a massive section of the Newcastle fan base were up in arms at the loan of Hatem Ben Arfa to Hull City: it was senseless, pointless and seemed vindictive against the player and the fan-base who were doing their level best to martyr him. Now though, according to a poll run by The Chronicle at least, everyone has forgotten about the French wizard, because who needs him when we're 8th and winning? But comments from Alan Pardew recently on the system Newcastle are playing prove exactly why Ben Arfa would have been useful at the club at the minute. Since that infamous fifth place finish that won Pardew his Manager Of The Year award, and fired us into Europe, the manager has changed his system multiple times to accommodate individual players (Demba Ba being the major reason we almost got relegated the season after). Now though, he's back to playing 4-3-3, as if it's some sort of genius tactical solution, and not the thing EVERY sensible Newcastle fan has demanded for the past 2 years. But whatever, he's listening at least (though only to himself, apparently):
€œWe look a side that is very, very powerful, has great variation that I can change, and our system is causing teams problems. The other teams will get to grips with it, and we€™ll have to ask a different question. €œWe€™ve played the system with some successful teams here, with different teams. We played it when we finished fifth. We played that system at the start of last year."
Since 2012, Pardew has been very clear that he hasn't rated Ben Arfa's professionalism, or his work rate on the pitch, never once acknowledging that he sabotaged a perfectly good tactical system that he was thriving in because his striker was whinging. He asked Ben Arfa to track back and defend, rather than being the free flowing attacking spirit he was in 2012, and then he wondered why it didn't work. The answer, Alan, as it has been this season is in the 4-3-3 that isn't at all mysteriously working. Ben Arfa is made for that position, and if he were here now, we'd have some more cover on the right of the front three other than Sammy Ameobi. Imagine what he could be doing in that formation again now... Of course, there's a qualification though for anyone who cares to suggest that Ben Arfa would have worked in this system, just as he did back in 2011/12:
€œBut this team has a different make up to those two teams. Those teams were about possession, this teamis quite happy not to have the ball. It can be just as dangerous without the ball €" perhaps even more of a threat at times.€
What an extraordinary comment. Soldiers are much more dangerous with no guns, hunger is far better eased with no food, life is better without oxygen. Anyway, clearly Pardew will never admit that his choice to change from 4-3-3 - the very system he admits has been responsible for the two most successful parts of his reign as manager - was the reason Ben Arfa and Newcastle went off the boil. Instead he'll treat his own decisions as if they were some sort of external stimulus that had to be dealt with and fought against. Because that's what managers who make bad decisions have to do. But while you're happily looking at the Premier League spare a thought for Ben Arfa, the true casualty of Pardew's unnecessary scrapping of the 4-3-3 system. If we had him now we could be looking forward to the kind of football we played at the end of the 2012 season, coupled with the impressive defensive set-up we have in midfield now, and we could be enjoying more exciting football.
Want to write about Newcastle and Hatem Ben Arfa? Get started below...
Create Content and Get Paid
---