10 Behind-The-Scenes Joe Rogan Experience Facts
A glimpse behind the curtain of the planet Earth's most popular podcast.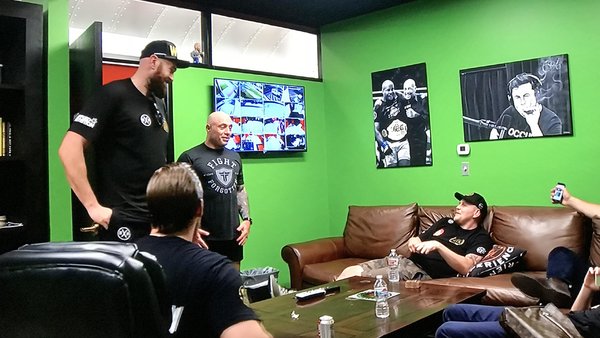 Since its inception in the Fleshlight-sponsored, grainy days of the late 2000s and early 2010s, the Joe Rogan Experience has gone from strength to strength over the course of 1,500+ instalments, culminating in the recent lucrative move to become a Spotify exclusive.
Like any great showman, Rogan and his team have for the most part kept the creative processes and backstage processes under close guard. However, given that the show now comprises of almost 5,000 hours of people from a number of eclectic backgrounds largely talking from the top of the head, a series of revealing facts have been let slip in conversation.
On top of this, the revolutionary format, accomplished host and quality of guest has led to the building of a very dedicated fanbase, that has taken a leaf from Young Jamie's book and looked into it, bringing further facts to light.
From the mind-boggling finances of the Spotify deal, to the pricey technicalities of production and even recent pandemic testing controversies, in this list of podcast particulars, we comb over some lesser know tidbits from behind-the-scenes at JRE.
Pull that sh*t up.
10. The Many Lives Of Young Jamie
Jamie Vernon (aka Young Jamie) has been a staple of the show and fan favourite since taking over full-time recording (and googling) duties from Brian Redban in 2014. Jamie initially worked alongside Redban until quality issues and increasing animosity between Rogan and Redban led to Jamie's promotion to sole producer.
It is understandable that Jamie is somewhat overshadowed on the show literally entitled "The Joe Rogan Experience", speaking on average for only 3 minutes per episode. He does, however, have an interesting backstory of his own. Before coming aboard JRE, Jamie played bass guitar in a band that once opened as a supporting act for heavy metal also-rans Mudvayne, and was a decent basketball player at high school level in Columbus, Ohio.
Jamie has also noted that he has been semi-professional at both photography and playing retro fighting games competitively before finding his niche as the much-loved producer on JRE.