10 Other Breaking Bad Characters Who Should Get A Spin-Off
Yeah b*tch! Spin-offs!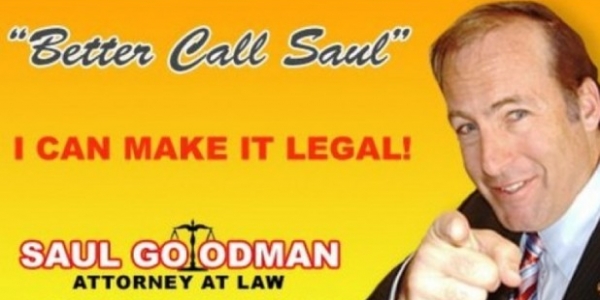 If you€™ve got a problem €" and no one else can help €" and if you can find him, maybe you should call€ Saul Goodman. Breaking Bad fans, don€™t despair €" no need to allow your grief over the show€™s departure to send you down the dark tunnel of meth addiction or scurrying for the nearest jewellers to steal baby tiaras. If you€™re even vaguely familiar with Vince Gilligan€™s masterpiece, we don€™t need to spell out the fact that it ain€™t coming back, but Walter Whitites can rejoice nonetheless in the arrival of Better Call Saul in February. As for finding Saul, unlike the elusive A-Team, that shouldn€™t be a problem for any legally challenged residents of Albuquerque. If you own a television set, you€™ll have seen his gaudy, lowest-common-denominator commercials, complete with cheesy graphics and hot cops. If you€™ve ever waited for a bus, you might just have found his face splayed all over the bench you€™re sitting on or staring at you from a billboard. And if you€™re having trouble finding his place of business, keep an eye out for the twenty-foot-tall inflatable Statue of Liberty. It€™s a metaphor. http://www.youtube.com/watch?v=jaqkzFuOXsY Of all the potential candidates for a spin-off, it€™s fair to say Saul Goodman was the best fit. His name alone €" an abbreviation of €œIt€™s all good, man€ €" was a sliver of brilliance, and his antics and one-liners were a welcome beacon in the murky waters of Vince Gilligan€™s masterpiece. A prequel focussing on Saul€™s life before The One Who Knocks arrived at his door gives the show€™s writers and creators the opportunity to produce a show that honours Breaking Bad by bringing back some familiar faces €" Jonathan Banks€™ Mike Ehrmantraut, among others, will appear in Better Call Saul €" while venturing in a lighter, more comical direction. As for other Breaking Bad alumni who carry their own show, there€™s more than you might think€
Jonathan Cordiner
I watch movies and I watch sport. I also watch movies about sport, and if there were a sport about movies I'd watch that too. The internet was the closest thing I could find.
See more from Jonathan